We are thrilled to share with you the exciting outcomes of the recent EDYN Leadership Council Retreat held in Bratislava, Slovakia. The retreat was a significant opportunity for EDYN's Leadership Council members to convene, reflect and deliberate on the future of our network. We are proud to report that the discussions held during the retreat were productive and resulted in several important decisions that will shape the future of EDYN.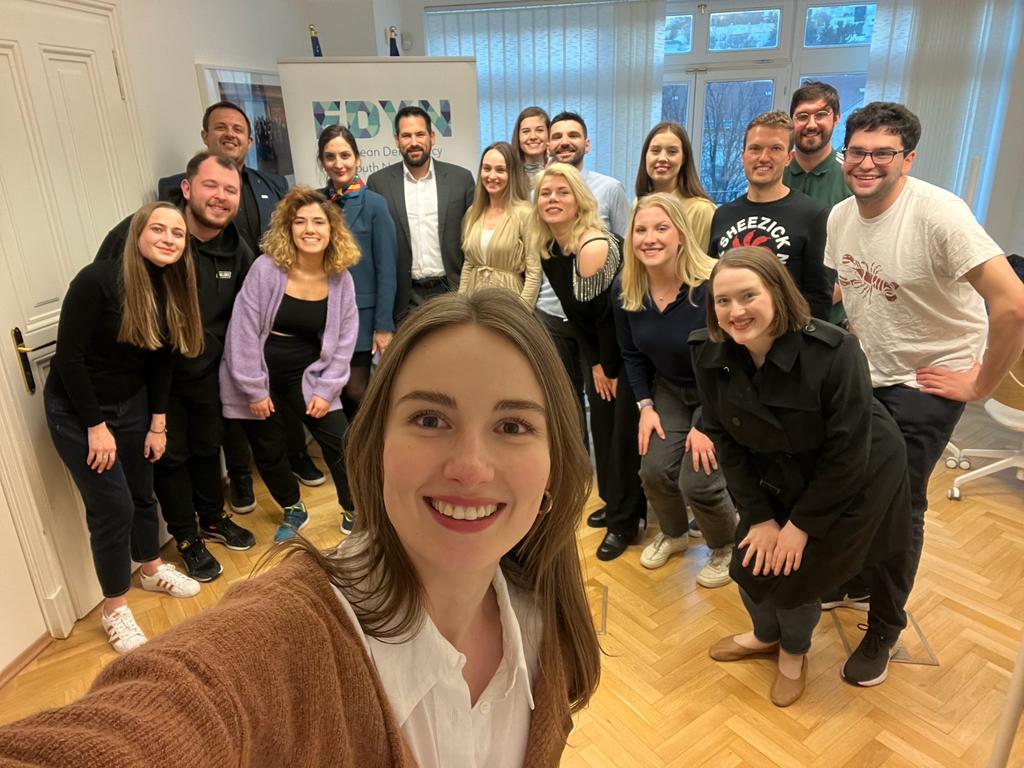 The opening remarks were given by NDI, IRI, EDYN HQ, and EDYN President, Daryna Onyshko, which set the tone for the retreat. Michal Kovacs presented the Pulse Check Results & Strategic Outlook on the Future of EDYN after 2024. This survey provided an overview of the current status quo of each chapter and highlighted the most popular activities.
Enrik Keco, the Vice-President and leader of the Working Group on Charter, brought up critical topics necessary for improving our Charter and network structure. During the retreat, the EDYN Charter was improved in several ways, including an exemplary division of responsibilities between ambassadors in the country into Communication, Partnerships, and Internal Communications Officers, the inclusion of more specific responsibilities for the Vice-Presidents and the establishment of dividing participants into active, freeze, and non-active members.
The Secretary-General, Tudor Arnaut, presented the EDYN Code of Conduct, which all the Country Chapters must follow. The document was adopted with 11 votes, and every CC will have to give the members to sign the document.
Salome Mgeladze, the Vice President, delivered a session about supporting local country chapters and onboarding new members. Each LC member shared their experiences and lessons learned, which can be implemented by other CC.
Saška Radujkov presented the EDYN Training of Trainers program, which led to the establishment of the EDYN Pool of Trainers. The next step is to organize an online meeting with delegates from LC and TOT to develop the EDYN Pool of Trainers.
The retreat also featured presentations on regional projects:
"Promoting the youth priorities from Eastern European countries" – Associated Trio Advocacy Trip;
Western Balkans youth conference;
Eastern European Youth Between Emigration and Political and Economic Challenges Conference;
Working Group on youth policy brief by Nikola Kandic, EDYN BiH, and Gjorgi Tasev, EDYN North Macedonia;
Visegrad Working Group, Loretta Pinke, EDYN Slovakia and Jana Soukupova, EDYN Czech Republic.
The LC retreat ended with an inspirational meeting with the US Ambassador to the Slovak Republic, Mr. Gautam Rana, who discussed the challenges and the future of Europe and our regions.
Overall, the retreat was a great success, and the discussions and decisions made will shape the future of EDYN. Thank you to all those who participated and contributed to the event. Stay tuned for more detailed information about the changes made in the upcoming LC meeting.
See all the documents here.