From the hallowed halls of Cambridge to the vibrant streets of Belfast, passionate EDYN members came together with a common goal – to build bridges, find common ground, and create lasting solutions to challenging conflicts. Read more about their experiences from EDYN and the Woolf Institute's Summer Program on Post-Conflict Reconciliation and how they plan to use their knowledge back home.
Ismayil Abdullayev, Azerbaijan
What are your general impressions of the program?
My overall impression of the program is absolutely positive! The experience of academic life in Cambridge, insightful discussions about situations in the conflict resolution field, and new trends and dynamics created fertile soil for reflecting on the direction we are moving in today. Discussions about the potential of AI in conflict resolution (CR) created the impression that we are approaching the verge of a new revolution in the theory of conflict resolution, which could bring enormous benefits in practice. The opportunities that AI creates in this field are genuinely gigantic.
What did you learn from the program, and how do you plan to use it?
I would like to continue deepening my knowledge of the AI potential in conflict resolution, and understanding the opportunities and risks it bears. I aim to explore how peacebuilders and CR experts can benefit from it not only in resolving conflicts but also in preventing conflict escalation.
I am looking forward to advocating for the usage of AI tech in the resolution of conflicts in the South Caucasus region, broader EaP region, and Central Asia. Particularly, I am planning to promote the implementation of the new technologies that I have learned during the Summer School for the peaceful resolution of the Armenia-Azerbaijan conflict.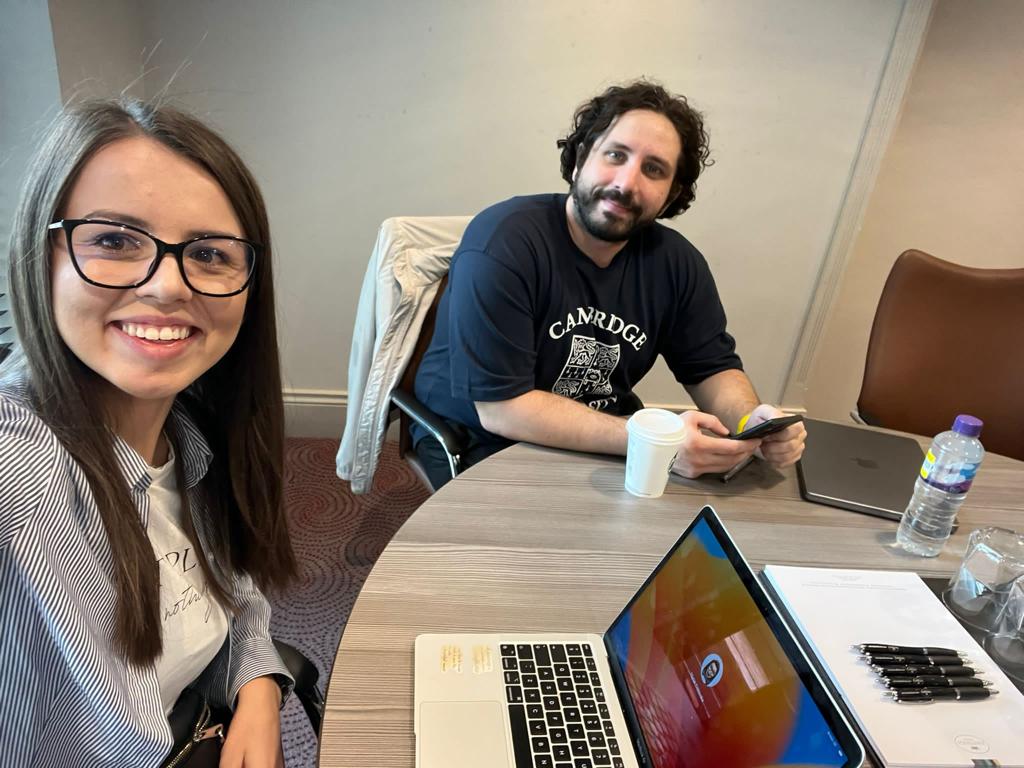 Ramadan Beshiri, Kosovo
What are your general impressions of the program?
My impressions of the summer program are really great! The highlights of this program were definitely Belfast and all the sessions with the Lectures, particularly the sessions in Cambridge with Dr. Katherine O'lone, Justin Lane, and the last day of the summer program at the Woolf Institute. It was amazing to hear about the Good Friday Agreement in the public speech during the last day in Cambridge with Dr. Ed Kessler. Also, the dinner with halal food from Syrian boys was delightful. One of the most impactful discussions was with ex-political prisoners in Belfast. Finally, I met good people and made friendly connections with them during this week.
What did you learn from the program, and how do you plan to use it?
Firstly, I have learned a lot about negotiations, peacebuilding, reconciliation after conflict, how to use technology to address problems between communities, nationalism, polarization, tolerance, and consensus. Most importantly, I have realized the importance of making peace a priority. I see myself contributing to influencing society by promoting a multiethnic identity and life. I will try to apply all the lessons learned during this program to address problems within our country. We still have a fragile situation in the north of Kosovo, and my hometown, Mitrovica, is full of violence and crisis situations.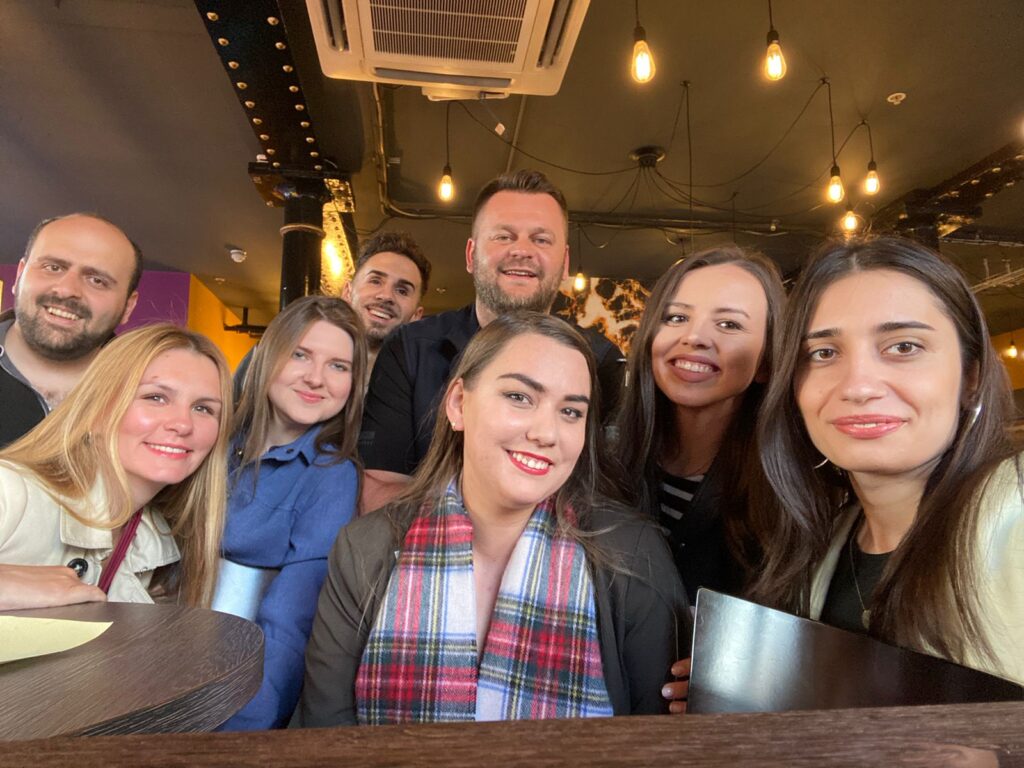 Yulia Dziuba, Ukraine
What are your general impressions of the program?
It was one of the best international programs I have attended, taking place in two inspiring places, Cambridge and Belfast. During the first three days in Cambridge, we equipped ourselves with knowledge about new ways to model peace and stability, combatting disinformation, and dealing with polarization and rising nationalism. The rest of the course in Belfast provided us with a significant opportunity to understand more practical uses of the Good Friday Agreement and how it applies to the situations in our respective countries.
What did you learn from the program, and how do you plan to use it?
As a Ukrainian member of EDYN, I made contacts that will be very useful for me in addressing the current challenges in my country. This experience will help me create projects focusing on innovative and sustainable methods for youth-driven efforts in the peacebuilding process. The Belfast part of the course was crucial in learning from peace practitioners how to sustain peace and ensure its longevity long after conflicts end. Finally, a powerful network of young leaders emerged during the program, empowering us to address common issues together, and we have already planned some future activities.

Albert Hayrapetyan, Armenia
What are your general impressions of the program?
During my participation in the Summer Program, I was truly inspired by the atmosphere of mutual understanding and respect among the Catholics and Protestants in Belfast. Witnessing how they agree to disagree and create space for sharing their own insights was remarkable. It made me realize the importance of fostering such a modus vivendi among different communities, particularly between Armenians and Azerbaijanis. I strongly believe that embracing diversity of thought and giving each other the freedom to express opinions can lead to greater understanding and peaceful coexistence.
One of the most memorable moments for me was attending the lecture delivered by Lord John Alderdice at Cambridge University. His expertise and deep understanding of peacebuilding strategies left a lasting impression. I had the opportunity to ask him questions regarding the challenges of reconciliation in divided societies, and his insightful responses provided valuable perspectives that I will carry with me.
What did you learn from the program, and how do you plan to use it?
Throughout the program, I gained significant insights into the potential applications of AI in peacebuilding. Learning about the use of AI to analyze millions of news reports and understand the underlying factors of peace and conflict within and between societies was fascinating. It would be fascinating to delve deeper into this field and explore how AI can be leveraged to help policymakers gain a comprehensive understanding of the dynamics at play in divided communities.
The summer school has provided me with invaluable insights into the power of dialogue and understanding among different communities. It has also sparked my interest in exploring the potential of AI in peacebuilding. I am inspired to promote a modus vivendi between Armenians and Azerbaijanis, and I am eager to utilize AI to facilitate faster reconciliation in divided societies.
Amila Husić, Bosnia and Herzegovina
What are your general impressions of the program?
This has been one of the best programs I have participated in so far. I have made many valuable connections, especially with fellow participants. This summer school opened my eyes to the challenges of other post-conflicts societies and the steps taken to overcome them. The most valuable sessions in my opinion were the ones focused on victims and rebuilding communities, with some good practice examples I would like to translate into the BiH context.
What did you learn from the program, and how do you plan to use it?
Besides EDYN, I foster a wide network of activists and peers in BiH, the Western Balkans region and further, including the Youth Advisory Group of the OSCE Mission of BiH, with whom I gladly share my experiences, both formally and informally. Moreover, I am a passionate writer, always looking for new platforms to share my thoughts, ideas and research and expand my reach. All my experiences and knowledge I actively implement in my activism and professional work, in order to improve the quality of my work and its outcomes. The connections I formed with participants have provided food for thought, especially the potential for joint projects, where we can foster our newly gained knowledge and shared experiences and multiply them across our respective countries, effectively expanding the reach collectively.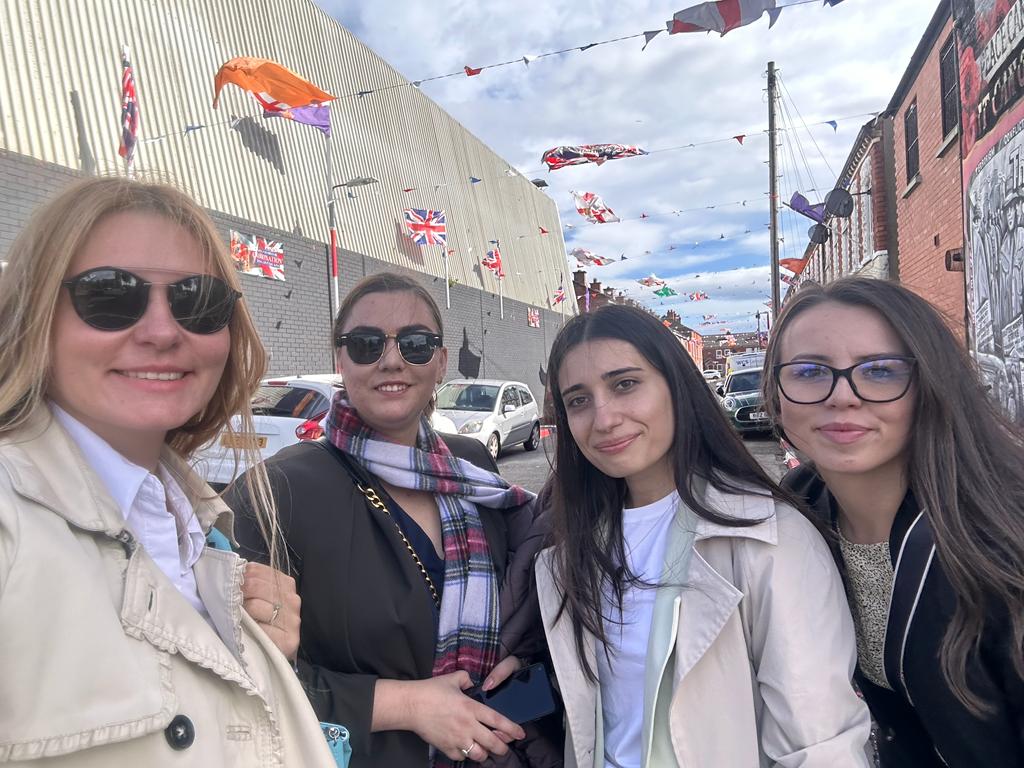 Klajdi Kaziu, Albania
What are your general impressions of the program?
This summer program, jointly organized by EDYN and the Woolf Institute, provided an inspiring getaway to a particularly insightful model of peacebuilding in Northern Ireland. Taking place in both the intellectually motivating city of Cambridge and the emotionally challenging Belfast, this program immersed me in a week-long process of reflecting on the roots of conflict and the paramount importance of visionary leadership in kickstarting peacebuilding processes.
What did you learn from the program, and how do you plan to use it?
Among other things, the program offered an extensive overview of the role of digital tools and Artificial Intelligence in developing data-based and sustainable peace processes. It showcased powerful models of how technology and machine learning may work for the benefit of humanity in shaping resilient peacebuilding and reconciliation policies at all levels. Pursuant to my work on empowering young peacebuilders and their communities in Albania and the broader Western Balkans, I aim to leverage the positive impact of such AI-based tools in advancing peacebuilding work across the region.

Marija Krstevska Taseva, North Macedonia
What are your general impressions of the program?
The Summer School on Post-Conflict Development and Stability which took place in Cambridge and Belfast was an unforgettable experience that had a profound impact on me. From listening to inspiring academics, diplomats, politicians, war veterans, and community leaders, the whole program was really well planned and I've got many insights and a wealth of encouraging messages for peace.
What did you learn from the program, and how do you plan to use it?
Both from the speakers, but also the other delegates from different EDYN chapters I learned a lot. Each one brought their unique perspective, passion, and expertise, making this learning journey truly special! I am grateful for the insights gained, the friendships formed, and the valuable lessons learned. They showed me that together, we can create positive change and foster stability in communities affected by conflict. I am eager to share this experience with the members of my chapter, and also stay in touch with the delegates and plan some common follow-up activities.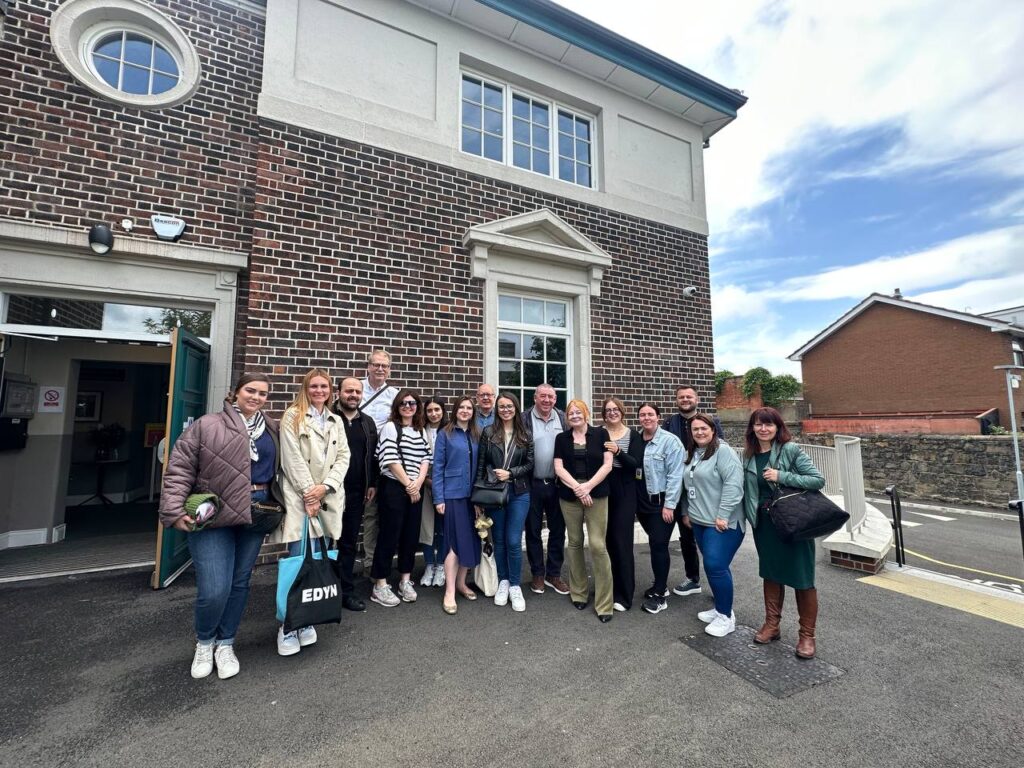 Gulkhanim Mammadova, Azerbaijan
What are your general impressions of the program?
This program was an enriching experience that has profoundly shaped my outlook on reconciliation. Various discussions with scholars and experts in different fields of conflict resolution and transformation, their deep knowledge and insights into the complexities of post-conflict situations inspired me to think critically about opportunities in building a peaceful future for my country. In addition, the program also provided a platform for networking and opportunity to interact with like-minded individuals who shared a passion for promoting peace.
Among the myriad of moments, one particularly etched itself into my memory is the visit to Belfast. Immerse in the heart of a divided society, we bore witness to the ceaseless endeavors dedicated to reconciliation. The interactions with local community leaders were truly inspiring, as they shared their personal stories of resilience and their commitment to bridging divides.
What did you learn from the program, and how do you plan to use it?
The program has expanded my knowledge in the field of post-conflict reconciliation and has motivated me to continue to contribute to a more peaceful and inclusive community in my region. One more time I understood how inclusivity and dialogue in the reconciliation process are important and how involvement of all stakeholders, including marginalized groups, in decision-making and peacebuilding efforts significant are significant. That, in turn, deepened my appreciation for the need to create spaces for constructive dialogue and to prioritize the voices of conflict- affected part of my society.
As I embark on the next steps, I intend to use the knowledge and skills gained from the program in various ways. Firstly, I will continue to actively contribute to conflict transformation initiatives in my country, leveraging the principles of inclusivity. Secondly, I will pursue further research in the field of conflict transformation and to deepen my expertise to contribute to academic discourse and policy development in the region.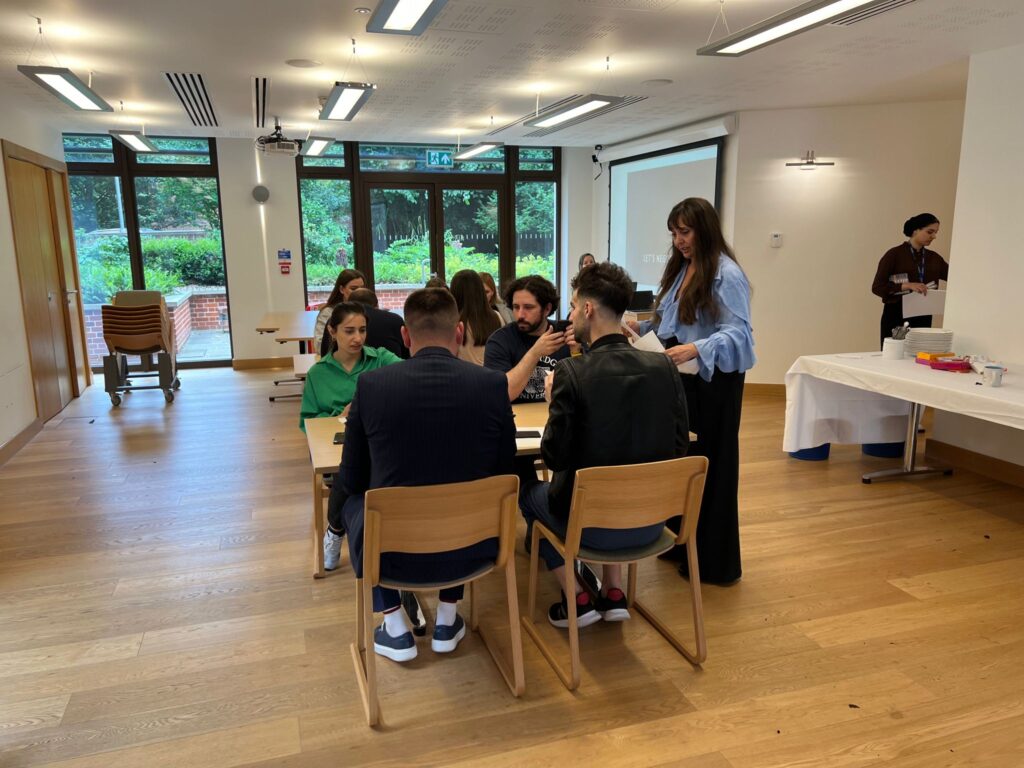 Olga Voitovych, Ukraine
What are your general impressions of the program?
Summer Program on "Post-Conflict Reconciliation and Future Building" was thoroughly shaped in terms of expertise and representation. The Program content included both – scientific oversight of the conflict through the entire life-cycle and practical approach to its resolution by all stakeholders. Coming from different conflict backgrounds we still have lots in common to address: challenges to social stability, disinformation and hybrid threats, rising nationalism, restorative justice and trauma after conflict. From each training session and meeting we truly considered "what lessons could be learnt".
What did you learn from the program, and how do you plan to use it?
Working for East Europe Foundation, one of the leaders in Ukraine's civil society sector – I would be glad to establish the project for Ukraine addressing future building.