As EDYN's new Partnership & Outreach Manager, I was delighted to have the chance to spend my very first week of work traveling to Washington, D.C. together with our Leadership Council President, Valeriu Dragalin, and our Executive Director, Michal Kovács, from June 13th to the 17th.
Below you can find the main insights following our high-level networking meetings!
USAID's Assistant Administrator, Bureau for Europe and Eurasia
We had the pleasure of meeting with Erin Elizabeth McKee, who is currently serving as USAID's Assistant Administrator in the Bureau for Europe and Eurasia, as well as with other USAID representatives, including Lisa Magno, Alex Sokolowski, Michael Henning, and Nicholas Doty.
As proud USAID partners, we are grateful for the opportunity to work together towards our common goal of strengthening Central and Eastern European democratic institutions and young people's awareness of their roles in civic decision-making. We stressed our shared interest in civic education efforts in the Eastern European bloc as channels to strengthen democracy and people's role in democratic policymaking, particularly in light of what this moment in Eastern European history affords.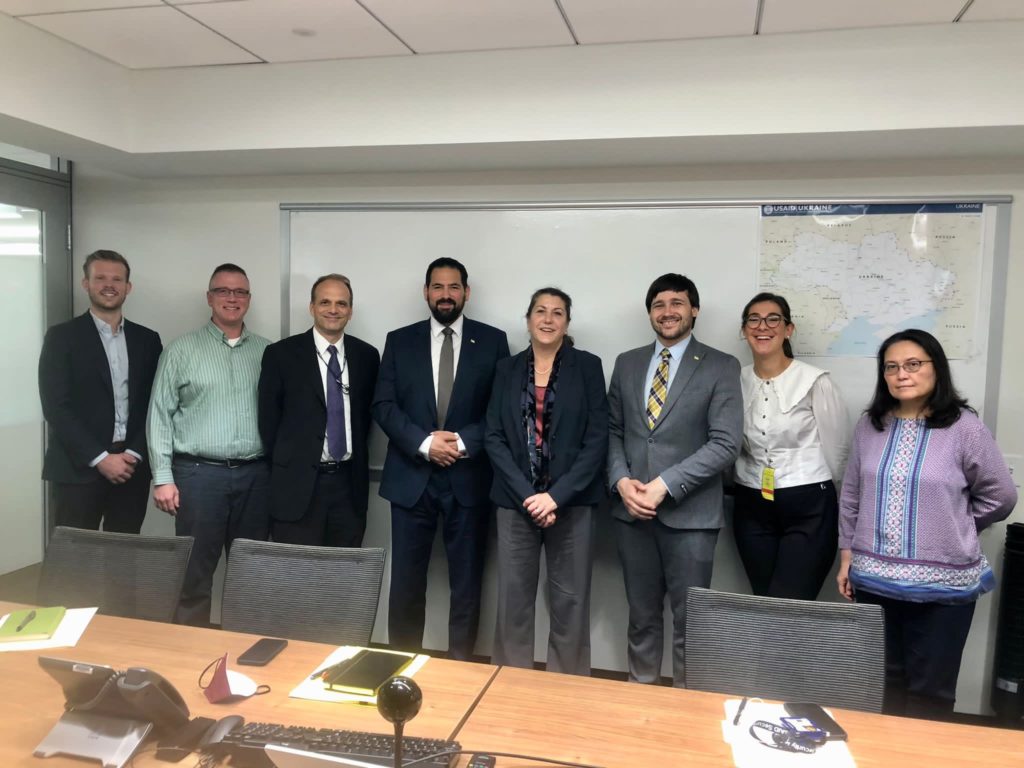 NED (National Endowment for Democracy)
Michal, Valeriu, and I also had a fruitful meeting with Assia Ivantcheva from the National Endowment for Democracy. As the Senior Director of NED's Europe program, Ms Ivantcheva shares our same values rooted in democracy and human rights. We stand together in our goals and efforts to spearhead democracy-building initiatives driven by demand on the ground in order to fight polarization and misinformation.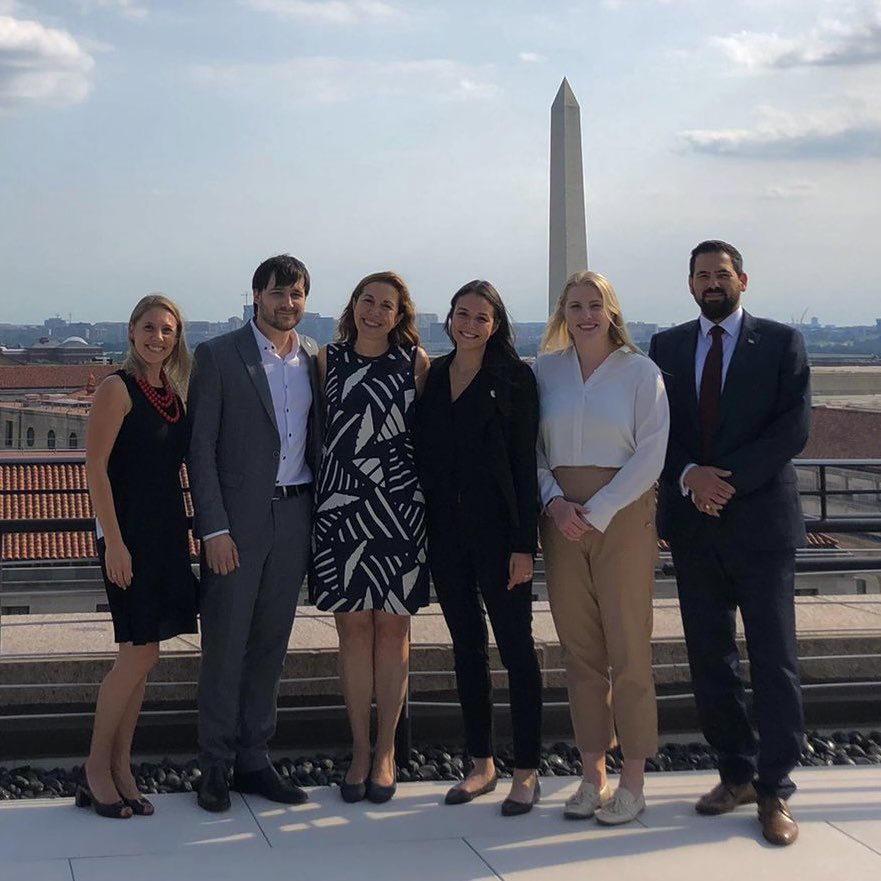 ACYPL (American Council for Young Political Leaders)
We are thrilled to report that while in DC, Michal and Valeriu got the chance to finalize an exciting new project with new partners from the American Council for Young Political Leaders on two upcoming exchange trips for young delegations of future leaders!
This winter, a selected group of young changemakers from the ACYPL will travel to Brussels and France with our EDYN staff, while next year a selected group of EDYN members belonging to the same Country Chapters — but with different political affiliations — will travel to the US with the ACYPL.
A special thank you to Libby Rosenbaum, the ACYPL's CEO, as well as peter DeAnna for the warm welcome to DC!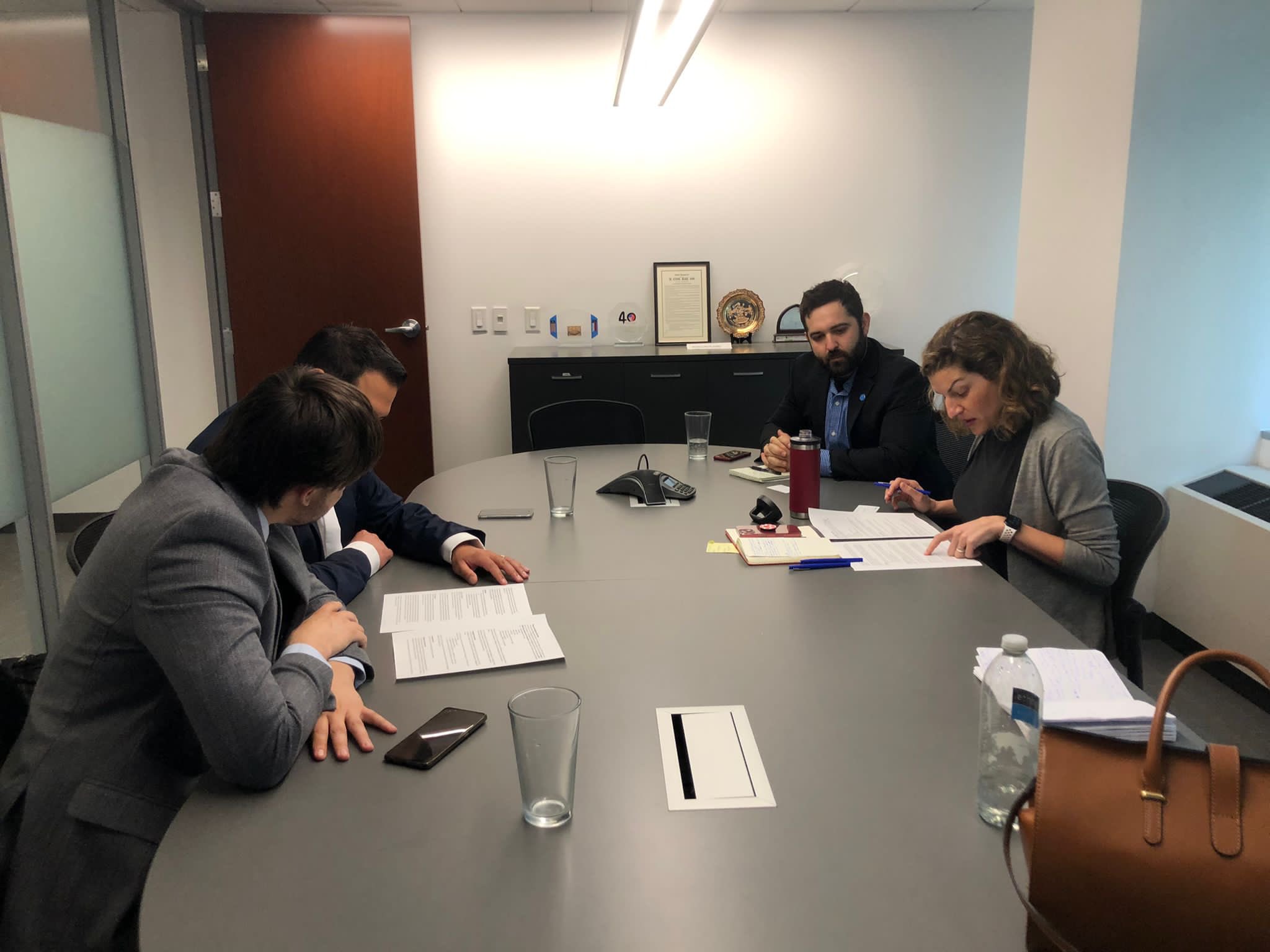 International Republican Institute's (IRI) Center for Global Impact
On the second day of the trip, we had the pleasure of meeting Meryl Miner, the Senior Youth and Inclusion Specialist at the Center for Global Impact, which is part of IRI (International Republican Institute).
We got to learn about "Generation Democracy", IRI's flagship youth leadership network, which was established in Africa six years ago and gradually expanded worldwide to assist civil societies, NGOs, and political leaders in order to promote democracy and civic youth engagement globally. We were excited to discuss potential avenues for collaboration to co-sponsor and work together on democracy-enhancing projects and initiatives aimed at youth empowerment in the Eastern European bloc as part of their Year of Action's plans.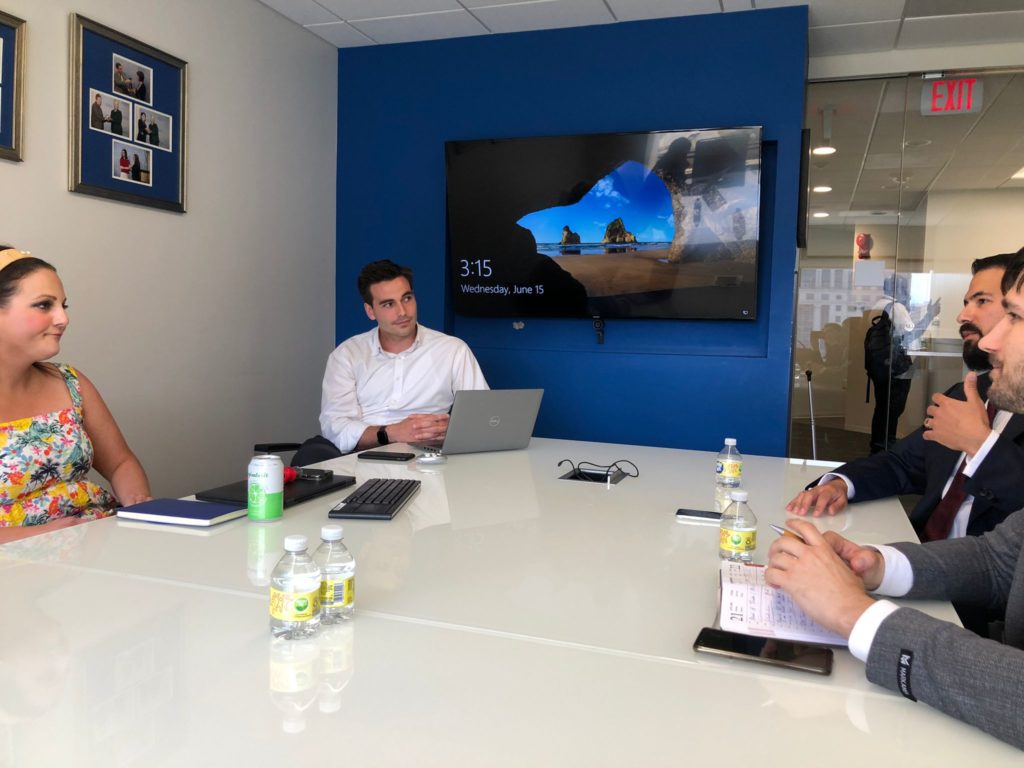 CIPE (Center for International Private Enterprise)
We then had a coffee with John Kay, Program Officer for CIPE's Europe and Eurasia team covering the Western Balkans.
We discussed what it means to establish a region-wide private sector committed to doing business in an ethical manner, which includes essential reform processes as well as fighting against corruption and authoritarian influences. We commend CIPE's support towards the Western Balkans' local private sector and civil society by fighting corruption, promoting economic inclusion and women's economic empowerment, and fostering the local business community's transparency and integrity in order to ultimately help the region prosper democratically.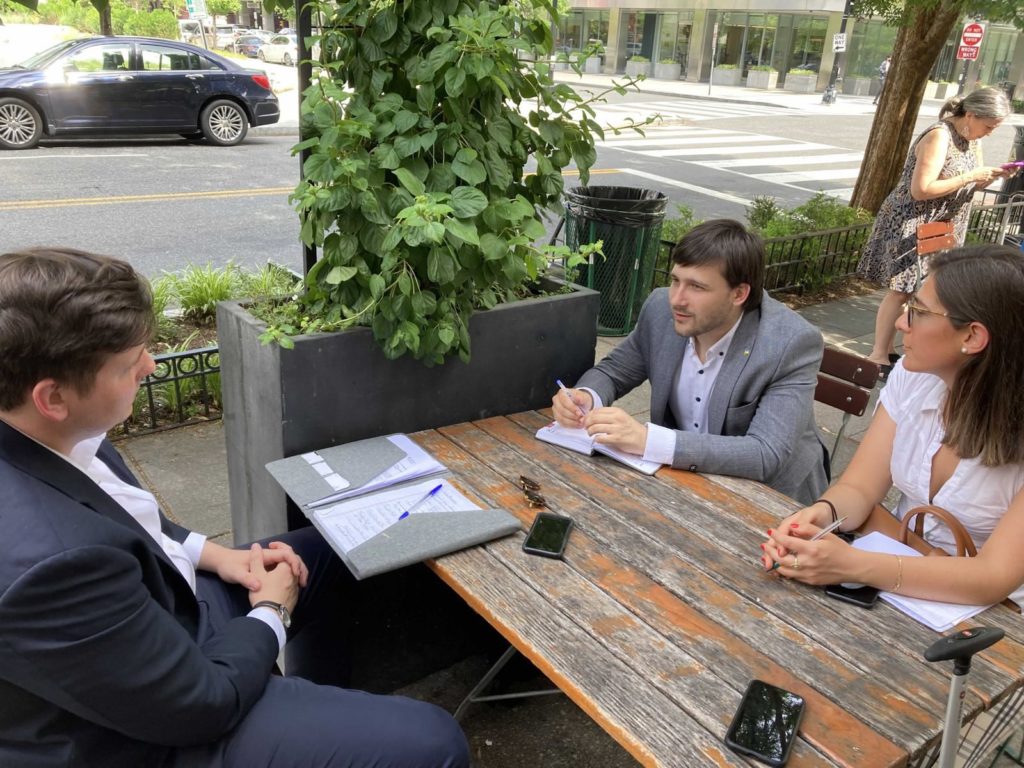 People Powered
Michal, Valeriu, and I virtually met with Josh Lerner, the Executive Director of People Powered, an organization that believes participatory democracy goes beyond simply casting your ballot.
Through their programs, they empower organizations and leaders globally to enhance participatory budgeting, participatory policy-making, participatory planning, and citizen assemblies and juries.
We were excited to learn about one of their flagship programs, Climate Democracy Action, which offers free training, mentorship, and peer support to a selected group of advocates and policymakers who seek to leverage participatory strategies to drive local governments' response to the climate crisis – which is definitely something that might be of interest to our members!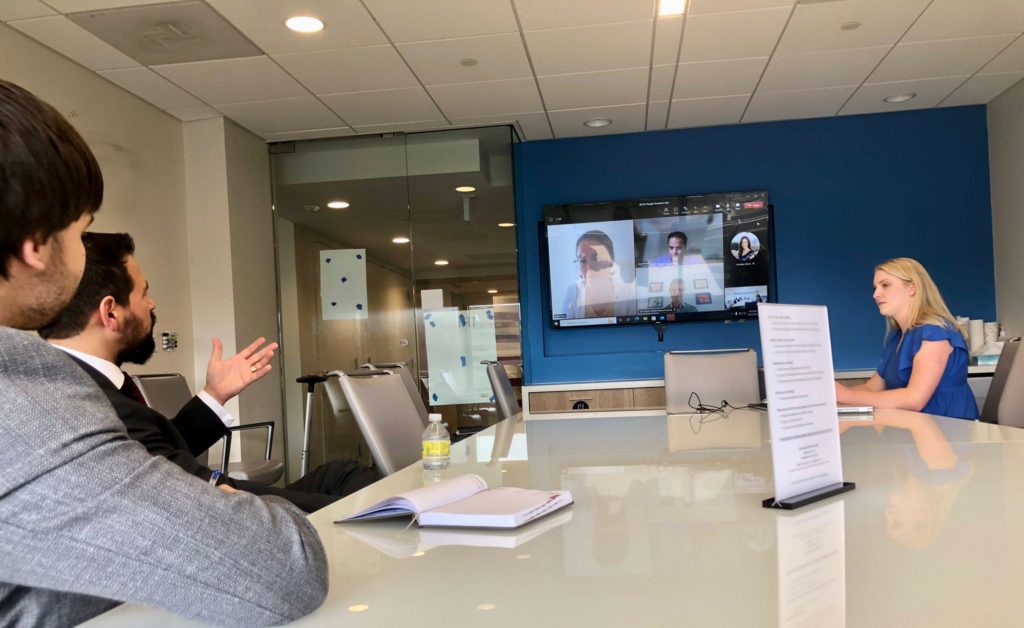 McCain Institute for International Leadership
On the third day of our meeting-filled week, we visited the McCain Institute, a think tank whose mission in cooperation with Arizona State University is to advance leadership based on security, economic opportunity, freedom, and human dignity both in the US and across the globe. We spoke with Paul Fagan, the Director of the Human Rights & Democracy Program. We discussed synergies and overlap in our lines of work as regards strengthening democratic institutions, promoting human rights, and leveraging the transatlantic alliance.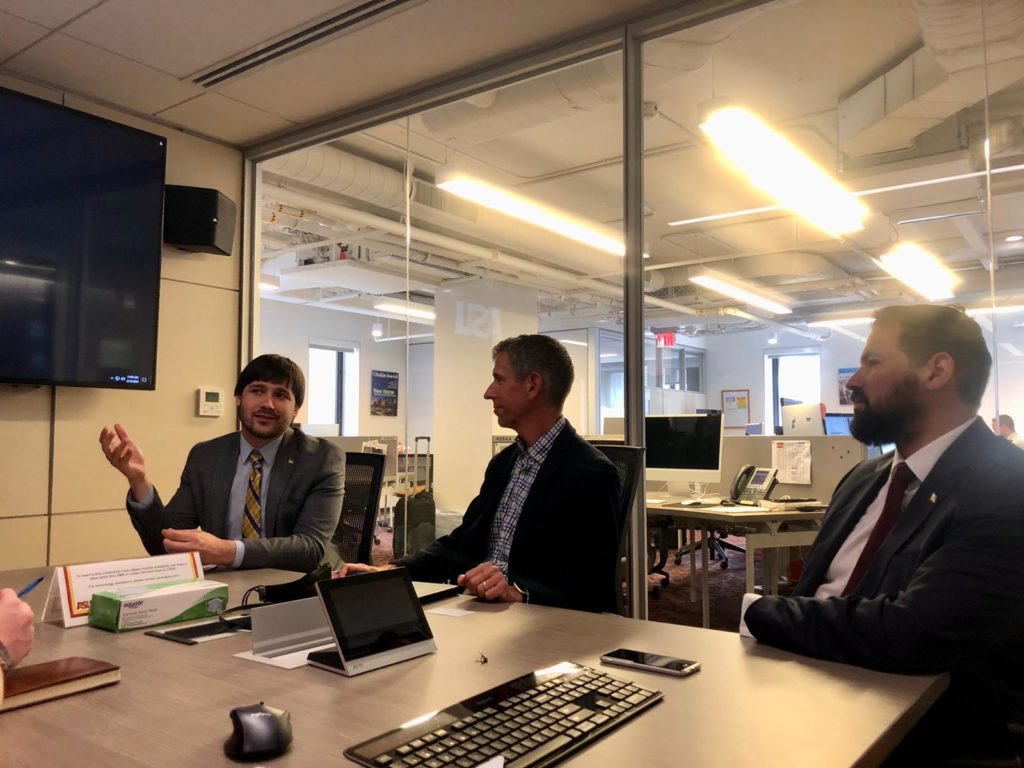 National Democratic Institute (NDI)
On our very last day, we got to catch up with NDI President Derek Mitchell to discuss EDYN's plans for the future and to take stock of our progress and growth over the past months. This is best epitomized by this year's membership growth from 330 or 430 members across our 23 local chapters.