Welcome to the series #EVERYDAYHEROES in which we introduce exceptional members of our network. Through pop culture, we discovered that heroes fly, have superpowers, come from another planet, wear capes and costumes, but there are other, real heroes. Heroes we are surrounded by every day, who raise their voices in times of injustice and fight for the rights of all of us.  Who look the same as us, who express their superpower by fighting everyday for a better and democratic society. Everyday heroes, that we have to talk about. Follow us on our Instagram to catch the next interview among the first ones.
Dejana Dexi Stosic is 24-year-old girl from Serbia whose main interest are human rights, gender-based violence, politics, diplomacy and binge-watching sci or epic-fy TV series. She believes in people, love, magic and unicorns, but especially in therapy. She loves tattoos, dogs, sweets and her favourite quote by Doctor Who says "We are all stories in the end, just make it a good one." She was also named activist of the year for her whole activist work and especially for sexual violence by the House of human rights and democracy.
She started her carrier when she was just 14 years old as an activist. Later, she became a peer educator. She worked with more than 3000 high school students, mostly with girls. She discussed topics such as prevention of gender base violence, transitional justice, peacebuilding. She is most proud of her work as a trainer of trainers where she teaches young people how to hold workshops and trainings regarding youth work and human rights.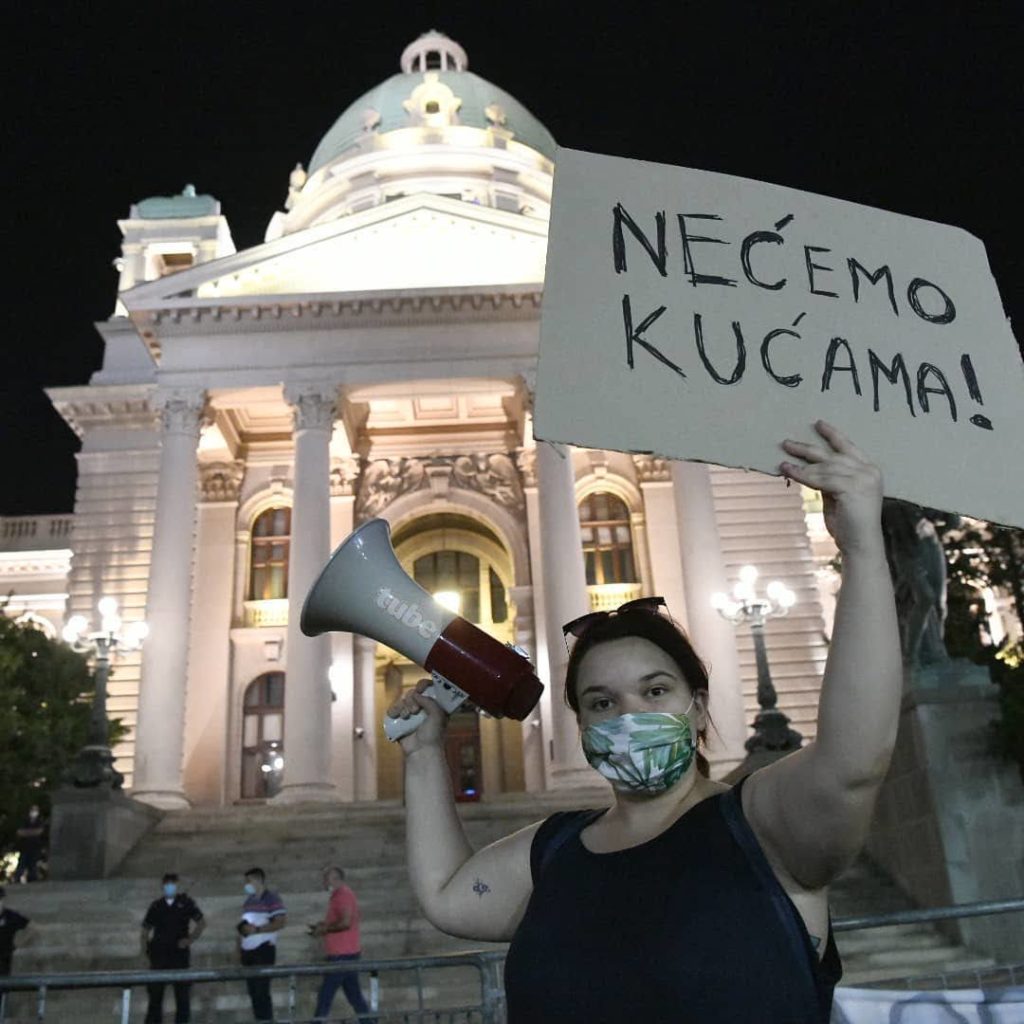 As part of the 1od5miliona she organized protest in Belgrade in 2018 and 2019 against Vučić and authoritative, non-democratic regime that he represents. First protest started as an answer to beating one of the opposition leaders Borko Stefanovic after his whole T-shirt was covered in his own blood and was called "Stop with the bloody shirts".
In different occasion she organized protest in her city Vranje against demolition of its only park. After the news that student's polyclinics are going to be shut down she was part of the group which organized protests together with doctors and spoke with PM Ana Brnabic regarding this subject – until this day student's polyclinics are up and running. She was part of the Dialogue between opposition and government through the EU regarding elections in 2020. She was the only women and young person in the group. This is why she believes that fight for better society is in the streets as well as in institutions.
After many celebrities in Serbia on different occasions step up to talk about being victims of sexual abuse and people on social media kept asking victims why they didn't report and saying that they (victims) are only doing this for attention. Majority of people said that they are all doing it for attention and that they are lying. After the case where police officers didn't even bother to take a statement of a woman saying she was raped, Dexi made hashtag #NisamPrijavila which means I didn't report, saying she didn't report because his mother was a lawyer. This # was used by more then 21.000 women in just 3 days on Twitter telling stories of their sexual abuse cases and why they didn't report.
For her work as an educator she was named most inspiring human rights educator in the world by Amnesty and UN Commission for Human Rights, she is former youth ambassador of WAVE network and winner of BeFer award for raising voice against sexual violence.
She is a co-founder and was a coordinator of SOS Girls corner which won the with and for Girls award for the best project in the world for girls. Today she is program coordinator for democracy in Youth Initiative for Human Rights. She uses her social media to talk about different social issues and to empower women and girls. Her life mission is to make girls believe that they are worthy, they are capable and that they can do whatever they desire.