Welcome to the series #EVERYDAYHEROES in which we introduce exceptional members of our network. Through pop culture, we discovered that heroes fly, have superpowers, come from another planet, and wear capes and costumes, but there are other, real heroes. Heroes we are surrounded by every day, who raise their voices in times of injustice and fight for the rights of all of us. Who look the same as us, who express their superpower by fighting every day for a better and democratic society. Everyday heroes, that we have to talk about. Follow us on our Instagram to catch the next interview among the first ones.
Another Everyday Hero is Deniz Selmani from North Macedonia.
Can you introduce yourself?
I'm Deniz Selmani, an ethnic Roma from North Macedonia, husband and father of Aron. I hold a BA in Public Administration and Political Science from South European University and MA in
Diplomacy from the same university. I am human rights activist, who join very young the civil society and Roma movement in North Macedonia. I am co-founder of the Institute for research and policy analysis – ROMALITICO and the first Roma civic movement – AVAJA (meaning "We are coming" in Romanes). As one of the co-founders of Romalitico, my current position is Program Manager of Local Democracy. From 2021 I am an alumnus of the Obama Foundation Europe Leaders Program. Until now, I have been affiliated with many international and national organizations as a fellow, researcher, consultant, trainer, etc. Apart from my professional career in the civic movement AVAJA my role is in developing strategic communication with my team. Usually, my free time I spend with my family playing and going out for a walk with my son Aron and my wife which is really healing after a weekly agenda full of meetings with different stakeholders, doing advocacy, negotiations, etc. Also, I want to read books in the last period I have not read a lot due to my tight agenda. I am a huge fan of the football club AC Milan and I am trying not to miss a match when they play.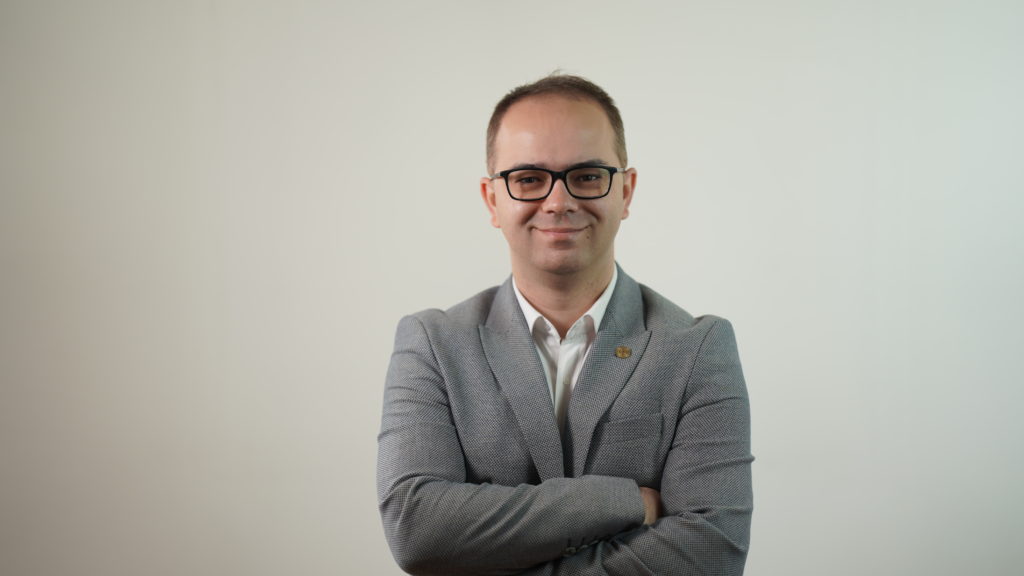 What do you consider your biggest success?
Oh, this is a very difficult question, I am not a solo player, I am a team player who most of the time acts "behind the scene". Therefore, I consider my biggest success founding the civic movement AVAJA with my team because AVAJA became one of the most influential initiatives led by young Roma giving voice to the Roma community which was silenced for so long. As part of the first campaign of AVAJA, We Vote – We decide in 2019, the citizens' Manifesto was supported by 11,450 signatures of Roma from 16 municipalities across the country promoting the turnout of Roma voters and making an informed choice. The manifesto was also presented at the Diplomatic dinner with the Government of the Republic of North Macedonia and diplomatic missions present in the country. The final event of this campaign was the Public hearing of the presidential candidates before the Roma community. At this event, were gathered 1200 Roma citizens from 16 municipalities where the candidates for President of the country for the first time in Macedonian history had the opportunity to present their political programs, and at the same time to hear the needs of Roma citizens. The two presidential candidates have pledged to work to improve the situation of the Roma community, to include Roma advisors in the cabinet, and during their tenure not to sign any agreement/ law that would be against or discriminatory towards the Roma community in the Republic of North Macedonia. During the pandemic COVID19, AVAJA was the first who mobilized the Roma community for finding systematic solutions to help by engaging with local institutions.
Also, as success can be considered my participation in the Obama Foundation Europe Leadership Program. Over six months, with Leaders all across Europe we had online meetings to discuss some of the most challenging issues confronting Europe. Additionally, we had tailored workshops supporting us in building our leadership skills, from mastering storytelling and mobilizing people to action, to building powerful movements and coalitions. But what really fascinated me about the program was the idea of building a community of support. The program provided opportunities for all leaders to meet virtually in small groups and to have one-on-one conversations to build deep and lasting relationships that help us through our everyday work and activism. Our cohort still practices this idea because it helps us to overcome difficult moments and situations in our lives and careers but also celebrates small and big wins and shares some happy moments. Last year, for the first time we had a chance to physically meet each other and spend together with the 2022 cohort 3 days in Copenhagen, Denmark of which one full day we spent with President Obama discussing the challenges in our society. All in all, it was a lifetime experience that I would never forget.
What does the word DEMOCRACY mean to you?
Well, democracy for me means the power of the people. People should have the power to decide who leads their country and for how long. The power to decide and set the agenda, and the power to influence policy direction. Take action, and empower those around you too. Also, democracy for me means political representation and equal treatment of all citizens despite their different ideologies, race, nationality, ethnicity, religion, etc.
Who do you consider your Everyday Hero and why?
Everyday Heroes are human rights activists, especially those working in illiberal democracies where the government tries to suppress and limit the work of the civil society. Also, during the pandemic COVID19, I consider Everyday Heroes the doctors and hospitals staff risking their lives to save the lives of the general population, the people who worked on the first line providing services in the shops, and the people working in public enterprises to maintain hygiene in our neighborhoods, while all of us were staying at home.
What does the concept of Everyday Hero mean to you?
Everyday Hero as a concept is something that we are witnessing every day it is on us to empower and encourage as many people to be proactive and become active citizens by doing small things. With all the challenges that the world is facing right now, Everyday Hero can be considered everyone who works to defy injustices and works towards creating a more democratic and inclusive society where the rights of the citizens are fully respected.
Why did you become a member of EDYN?
I became a member of EDYN because it matches my vision and mission meaning defending the freedoms and building a democratic and inclusive society across different political and ideological views of its members. EDYN is a unique network supporting youth pro-democratic leaders from different countries. EDYN as a network provides enough space for the member's network with different stakeholders important for the causes they care about, but also to develop their skills, expertise, and experience through different activities.