Welcome to the series #EVERYDAYHEROES in which we introduce exceptional members of our network. Through pop culture, we discovered that heroes fly, have superpowers, come from another planet, and wear capes and costumes, but there are other, real heroes. Heroes we are surrounded by every day, who raise their voices in times of injustice and fight for the rights of all of us. Who look the same as us, who express their superpower by fighting every day for a better and democratic society. Everyday heroes, that we have to talk about. Follow us on our Instagram to catch the next interview among the first ones.
Another Everyday Hero is Dominik Lelkes from Slovakia.
Can you introduce yourself?
My name is Dominik Lelkes, and I am 23 years old. I study European Studies and International Relations at the Faculty of Social and Economic Sciences at Comenius University in Bratislava. In my free time, I do mostly voluntarism for the European Parliament Office in Slovakia and also work at the Institute for Central Europe. I have been working together with the European Parliament for almost 2 years as a volunteer through the together.EU community. Our aim is to bring the EU closer to its citizens through panel discussions, workshops, and seminars; fighting disinformation about the EU and its policies, and educating the youth (critical thinking, problem-solving, academic argumentation, and media literacy). When it comes to my position at ICE (Institute for Central Europe), I work as a project manager mainly focusing on the field of defense and security.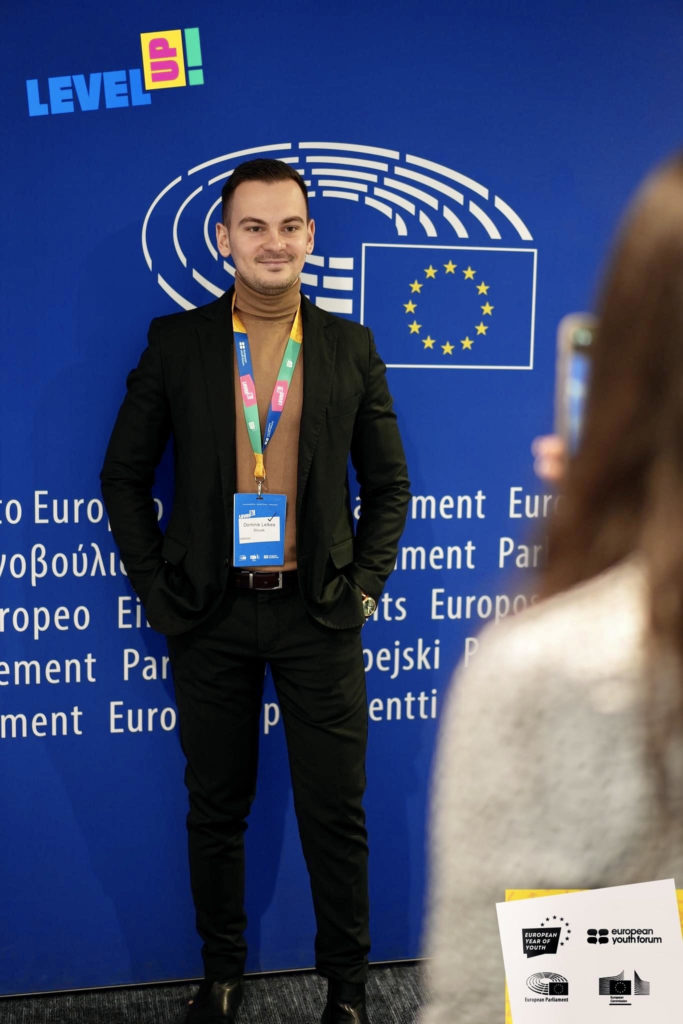 What do you consider your biggest success?
The biggest success I achieved in my career up to now was last year's EU conference organized in Bratislava. The project – "We are the European Union" – was focused on bringing the EU closer to the Slovak youth through 3 different panel discussions. The three-panel discussions reflected three different fields of politics – 1st focusing on the EU's green policy where Slovak MEP, Michal Wiezik had a discussion with me regarding this field; 2nd focusing on the future of the EU's defense policy which I discussed with former Slovak PM, Mikuláš Dzurinda; and 3rd focusing generally on Slovakia's position after 18 years of entering the EU again with a Slovak MEP – Vladimír Bilčík. 3 different secondary grammar schools participated in the project – which I consider a success since the projects aimed at stirring the debate and educating the youth regarding the EU.
What does the word DEMOCRACY mean to you?
"Democracy is the worst form of government – except for all the others that have been tried." I quoted the famous ex-PM of Great Britain, Winston Churchill since in my opinion democracy is the only form of government that guarantees freedom and the protection of human rights and civil liberties.
Who do you consider your Everyday Hero and why?
My everyday heroes are my parents since they have been supporting me throughout my life and career and work every day to push me, forwards, in my ambitions.
What does the concept of Everyday Hero mean to you?
We are all heroes in our own way. One does not need to do "big" things to be considered a hero. Small things matter. Helping out your neighbor, collecting trash from the streets or forests, or fighting for a good cause are all considered heroic acts. Why? The reason is simple. By doing something good you help out others – literally, you become their daily heroes in life.
Why did you become a member of EDYN?
I joined EDYN firstly because I am fully in line with its vision and mission of protecting and spreading democracy all around the world, and secondly because I consider it a good platform to do different kinds of activities and voluntarism for/ or also involving the Slovak public and youth.