Welcome to the series #EVERYDAYHEROES in which we introduce exceptional members of our network. Through pop culture, we discovered that heroes fly, have superpowers, come from another planet, and wear capes and costumes, but there are other, real heroes. Heroes we are surrounded by every day, who raise their voices in times of injustice and fight for the rights of all of us. Who look the same as us, who express their superpower by fighting every day for a better and democratic society. Everyday heroes, that we have to talk about. Follow us on our Instagram to catch the next interview among the first ones.
Another Everyday Hero is Zvonimira Jakić from Bosnia and Herzegovina.
Can you introduce yourself?
CHANGEMAKER – the word which explains me the best. My name is Zvonimira Jakić, global changemaker. Currently, I am youth advisor of the Presidency of Bosnia and Herzegovina, Secretary General of "The Paneuropean Union Bosnia and Herzegovina", Youth coordinator of the Global Network of Religions for Children, Programme manager of "The Foreign Policy Initiative Bosnia and Herzegovina", member of diplomacy core of Croatian Embassy in Bosnia and Herzegovina and trainer of European Commission on several topics. In my career I worked as youth assistant of several historic persons in democratic processes around the globe such as h.e. Jean Claude Juncker former president of the European Parliament, h.e Kolinda Grabar Kitarović former president of the Republic of Croatia, h.e John Magufli former president of Tanzania and h.e Juan Carlos Varela former president of Panama, etc. My expertise is youth, European integration, EU, human rights, NATO and EU integration, democracy, foreign policy, equality, inclusion, and interfaith dialogue. I come from a small academic family where every member invested in their education, positive change, and academia—my grandfather and academic prof. Blagota Lučić was the first professor in Balkan who created Bachelor programs for students in the economy field. Because of them, I was inspired to bring change wherever I go. I started to work and volunteer around the globe when I was 12 years old and right now I am 26 in this period I gained so much international and local experience. In my free time, I am mentoring several university and high school students around the globe in focus on Bosnia and Herzegovina where I teach and mentor them to become future leaders and changemakers of the world. My motto for change and work is: "INSPIRE.ACT.CHANGE!"
What do you consider your biggest success?
In 15 years of my global career, there were plenty of successes and also failures. The fact I am most proud of is "NOT GIVING UP, SMASH BOUNDARIES AND BARRIERS". Changes with the positive outcome of success are very complex and hard and take a lot of energy and patience. My biggest success began in 2013 when I went to Africa and formed the first smart school in Tanzania for children in need where I collected the whole country of Tanzania to bring out more projects like this. In the period of 2013.-2015. they formed more than 45 smart schools around the continent of Africa. In 2016. With a team of ten students, I proposed a youth law for activism and volunteerism in Bosnia and Herzegovina which was accepted by the Parliament and is still active. In 2018. with the academia from Bosnia and Herzegovina and Romania, I proposed the law of ethics education in schools. In 2019. and 2020. I formed a global program of tutoring for children in need. In 2019. I was awarded by "SEEBA" with the award of "the best young entrepreneur " for my startup "Green Solutions" for the innovation in agriculture digitalization. After that period I was in many democracy competitions where I won first places with my democratic solutions. In 2022. I was awarded for the best world scientific paper on the theme of people and children on the move. But, my biggest success is when I see that one of my students made a positive CHANGE in the globe.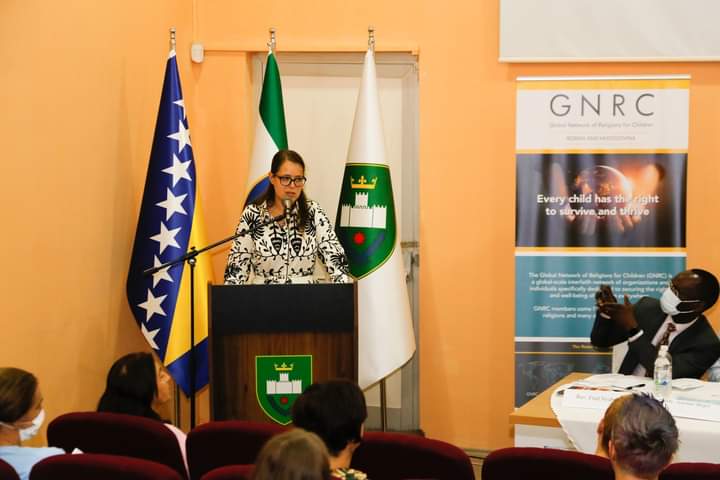 What does the word DEMOCRACY mean to you?
Democracy is the mother of CHANGE where every rule and law leads to change which results in revolutions of positiveness and motivation for a better life. Democracy is the harmony of living and the voice which is the demand not to be silent. My message for your readers is: "Be the hand of democracy and let it be your harmony! "
Who do you consider your Everyday Hero and why?
The First Everyday Hero of my life was and is my mother. Imagine the mother of a little girl, 12 years old who wants to travel the globe alone and make changes, how brave that woman must be to let her go. She is the hero because she believed in me and let me make so many positive changes which she inspired in me. Everyday Heroes are all my students and colleagues who every day are fighting for democratic changes and face so many difficulties in those processes. Also, children who are facing many global problems such as war, and natural catastrophes are sending the message to the world and us that every positive change is more than positive.
What does the concept of Everyday Hero mean to you?
For myself that is the acceptance of work and changes that people are noticing in our communities. With this concept, we have to be aware that we are not alone, together with the harmony of democracy we can change ourselves and our global community. Every small step of change is a big step in the revolution of change. Everyday Hero is our voice and needs for every child and youth who are fighting for their rights and changes. Let's support each other in this big global process.
Why did you become a member of EDYN?
For me, EDYN is the global network that gave me the opportunity to grow my voice and a positive space where I, with other colleagues can grow and make changes. I wanted to share my experience and knowledge as a young person and to bring new initiatives and projects to our network which can be more recognized in the society of Bosnia and Herzegovina. Because in the community of democrats, youth are present and it is time to act together and it is time now, so "INSPIRE.ACT.CHANGE!"