The spread of disinformation has become a global pandemic that has been largely driven by social media. Accessing most of their information online, and with limited media literacy skills, the ability to identify disinformation correctly and quickly has become a critical skill for young people. At the same time, the European Union (EU) and the non-EU countries share many evolving transnational security issues, from radicalization and violent extremism and returnee Foreign Terrorist Fighters to disinformation and cyber–attacks, and organized crime more broadly. Such challenges – vital to our economies, citizens, and political life – call for a strong transnational security and home affairs alliance as well as collective coordinated actions in order to be effectively addressed.
This is precisely why experts in the field of security, young expert members of the EDYN network and their experienced colleagues from Bosnia and Herzegovina, Georgia, Moldova, Poland and Slovakia, as well as representatives of NATO, the diplomatic corps and Slovak state institutions gathered on October 6 in Bratislava. The event began with a closed-door expert roundtable hosted at the Ministry of Defense of the Slovak Republic and then was followed by a panel discussion open to the interested public and media, where experts presented case studies, exchanged good practices, and shared their experiences and research regarding hybrid warfare. Although the experts came from different countries, they agreed that both the topics and the methods of spreading disinformation are remarkably similar
The topic of the fight against disinformation has become increasingly important in recent days. The war has awakened the spirits of the past by bringing up security concerns. We cannot overlook the deep apprehension that has settled across Europe, which is being increasingly faced with security, energy security, and economic implications of the war in Ukraine. Experts have identified the need for broader coalitions between non-state and state organizations as an important aspect of the fight against disinformation. They agree that the spread of hatred and lies objectively contributes to polarization and is often responsible for hate speech and even physical attacks in real life.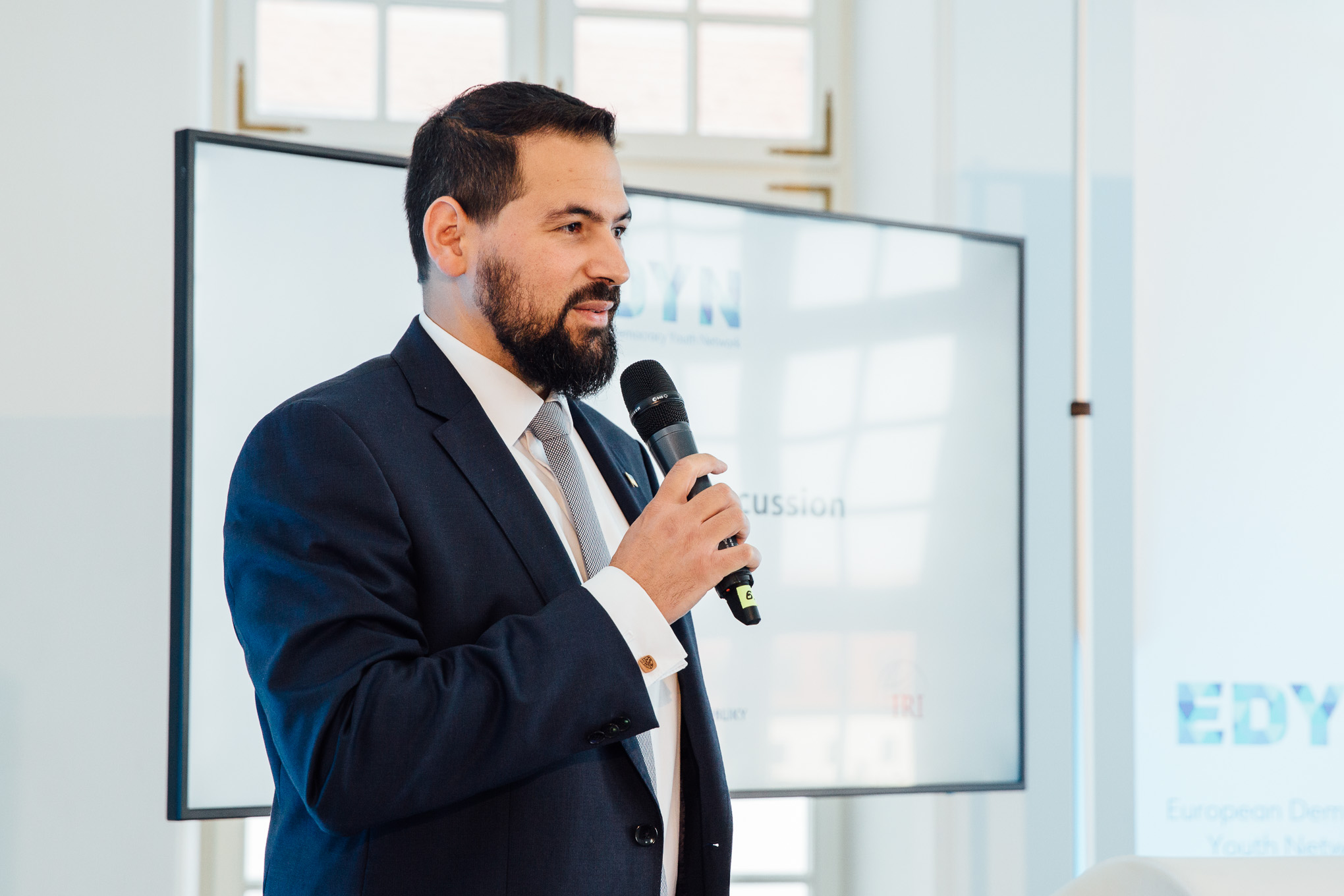 "EDYN finds that many young people in post-totalitarian Europe are aware of the problem of polarization and are trying to actively work against this phenomenon in their countries. However, the spread of hoaxes that anger society is hindering this effort, so our members are organizing and sharing knowledge on how to effectively counter this hybrid threat." stated Michal Kovács, executive director of EDYN.
EDYN continues high-level expert events already on October 24 with a similar event in Brussels, after which we will formulate actionable recommendations to contribute to public capacity to counter disinformation in public life and develop a more resilient society
The initiative is taking place in light of EDYN's involvement in the Summit for Democracy's Youth Political and Civic Engagement Cohort. The co-leadership of the Youth Political and Civic Engagement Cohort by the European Commission, Ghana, Nepal, EDYN, AfricTivistes, and EDYN underscores the importance of promoting the youth's ownership in democratic values' legacy.
This event has been organized with the financial support of the Ministry of Defense of the Slovak Republic.