After the recent elections, we are happy to introduce the leaders of the upcoming term. You might have seen their campaign videos here, but what are their backgrounds? Let's dive into their bios.
EDYN President

Daryna Onyshko
Daryna Onyshko is a youth advocate, program management professional and researcher with experience working at international organizations, NGOs and youth networks. She is currently the President of the European Democracy Youth Network (EDYN). Daryna joined EDYN as a member in 2020 and was engaged at the various levels of the network: starting with leading the event team that carried out more than 10 online discussions and later co-coordinating the work of the Polish Chapter with its 16 members (2021-22). As her main work engagement, she serves as the Program Officer at National Democratic Institute Poland based in Warsaw. She focuses her work on democracy-related activities in Visegrad Group countries on youth in politics, and in Ukraine on religious freedom and interfaith dialogue. Most recently Daryna served as the Program Officer on Youth and Gender Equality at the Community of Democracies (2017-2022). Daryna is an alumna of the Center for European Policy Analysis's James S. Denton Transatlantic Program, the New Security Leaders Program of the Warsaw Security Forum, LEADx Program by the Fletcher School at Tufts University and a recipient of OSCE & UNODA Peace and Security Scholarship. She currently co-chairs the Women's Diplomatic Club in Warsaw that brings together more than 100 women diplomats. She holds an MA in Political Science with a major in Analysis and Policy Advice and a BA in International Relations. Besides English and Ukrainian, she speaks fluent Polish and basic Norwegian.
Leadership Council

Albania – Enrik Keco
Mr. Keco holds a bachelor's degree in Political Science with a concentration in Governance and Public Policy and has specialized in European Union Politics and Diplomacy. He has a combined work experience of eight years in the public and private sector, and NGOs. Mr. Keco has worked as a research manager in the field of education, political parties, innovation, markets, EU studies, participation, business, etc. Further, he worked as a Development and Good Governance Policy Expert in the Council of Ministers. Currently, Mr. Keco is working as Senior Project Coordinator in the education sector. He is deeply involved in the local community demonstrated by his active participation in organizations that serve the Albanian youth empower.

Azerbaijan – Zulfiyya Mehdiyeva
Zulfiyya is a civic activist, and economist from Azerbaijan. She is the founder of Easy Peasy Economics, the initiative group of economists in Azerbaijan. Currently, as a team, she is working with 12 young economists to increase economic literacy and grow young generation economists. In addition, Zulfiyya was the manager of various social projects funded by EU, USAID, US Embassy and she delivers training on Project Management and Writing.

Belarus -Viktoryia Andrukovich
Viktoriya Andrukovich is a human rights and political activist from Hrodna, Belarus currently based in Lithuania, Vilnius due to repressions in her country. She has extensive experience working in human rights organizations, NGOs, youth organizations, and political and civic campaigns in Belarus and abroad(mostly with a focus on Eastern Europe). In Belarus, she worked with the victims of riot police violence after the august 2020 events, political prisoners, refugees, and discriminated groups. Currently, Viktoryia continues her work on Belarusian affairs as a program officer at the International Republican Institute. My main focus of work at the moment is grass-roots activism, advocacy, anti-propaganda and anti-disinformations, support for independent media, protection of rights of minority groups, LGBTQ+, women's rights, and more.

BiH – Nikola Kandic
Nikola Kandić is a lawyer, youth worker and storyteller from Bosnia and Herzegovina. He earned a master's degree in civil and company law at the University of East Sarajevo. During his student period, he was president of the Student Assembly and began his career as a civil activist. He gained work experience by working in the Ministry of Justice of the Republika Srpska, UNHCR, and non-governmental organizations in BiH (Institute for Youth Development Kult, Youth Council of the Federation of BiH, Civitas BiH). He currently works as a Communication and Outreach specialist in the IT sector. He is a member of the Youth Advisory Group at the OSCE Mission to Bosnia and Herzegovina, and was appointed as an ambassador of the EDYN network and a European youth ambassador for the Western Balkans by the European Commission. He is recognized as a youth leader and is the author of a number of researches, methodologies and programs in the field of youth work. Fields of his work: media and information literacy, communications, youth policies, dealing with the past, regional cooperation, social innovations.

Georgia – Salome Mgeladze
Salome Mgeladze works in the education sector for many years. She's the founder of two non-formal education centers. Currently, she's working as a CEO in one of them under the name re:school. It is a non-formal education space, where the creators of innovative projects teach tech professions that are in high demand. Salome believes that only knowledge of digital technologies is not enough for professional perfection, therefore, her team equips new generations with all the necessary skills that will help them to be successful. The mission of re:school is to turn users of technologies into creators. Currently, Salome is working on two projects with her partners from re:invent studio, which is the first venture studio in Georgia of which re:school is a part. The first project is about the implementation of teaching digital technologies to women prisoners and the second one is about teaching digital technologies to 100 women from regions of Georgia. The final goal of Salome and her partners is to teach digital technologies to 500 000 people in Georgia and to fight unemployment and low income this way. In addition, Salome is a Ph.D. researcher in International Law. She was a representative of Georgia at the Transatlantic Inclusion Leaders Network of the German Marshall Fund of the United States and recently became an alumna. She graduated from the Georgian – American University with a bachelor's degree in Law and received her master's degree from the University of Rome Sapienza in European Studies. She has diverse experience working in the public and private sectors. In addition, she was an author and a host of the TV show "we need to talk" on the Georgian TV channel Formula. She's a civic activist and she's passionate about women's political and economic empowerment. In addition, her sphere of interest and working area is fighting against disinformation. Salome speaks five foreign languages. She joined EDYN in 2020, became an ambassador in 2021, and was elected as a member of the Leadership Council in 2022.

Kosovo – Egzon Osmanaj
Egzon Osmanaj is born and raised in the city of Mitrovica, Republic of Kosova. He is an alumnus of the University of Sussex and holds a master's degree in European Governance and Policy. He is also a Young Cell Scheme Awardee by the European Commission. He is an experienced Researcher and Policy Analyst with a demonstrated history of working in the public policy industry, Civil Society, and International Organizations. He as an extensive experience in social research, policy drafting, data analysis for policy making, political education, critical thinking and media literacy, youth empowerment, and project cycle management and evaluation. He is also trainer in soft skills, and consultant in data-based policy-making and strategic planning. He currently works as program manager at the Friedrich Ebert Stiftung, Prishtina Office.

Moldova – Tudor Arnaut
Tudor Arnaut is the co-founder of Comunitatea Plus, a non-governmental organization that empowers young people to make a positive impact in their communities. He organized various Erasmus+ projects and provides youth with more opportunities for personal and professional development. Tudor is an alumnus and mentor of the youth program Challenger, a program that fosters critical thinking and research skills among young people. He also received a scholarship from Soros Foundation in 2021.

North Macedonia – Gjorgi Tasev
Gjorgi Tasev currently works as an Advisor for youth and youth policies to the Prime Minister of North Macedonia. Tasev previously worked in the sector of communications and PR in the Government. Tasev was part of Rising Public Leaders Programme at Blavatnik School of Government at Oxford University where he strength the skills that rising senior public leaders need to build cultures of excellence, effectiveness, and integrity throughout the institutions they lead and across the public sector more widely. In addition, Tasev worked as a demonstrator/associate at FON University (Faculty of Law) in the fields of administrative and constitutional law. Within his work engagement, Tasev has also been active through the NGO sector as program and project coordinator in various organizations, and now from the position of a decision maker he continues working on affirmation of youth policies, encouraging youth activism and increasing the participation of young people in social processes. He is author/co-author of many articles in the field of youth policies, social relations, and legal affairs, and also have many years of experience as an expert and consultant in strategic planning, youth participation and youth policies, political and development programs. Tasev is Government representative and Bureau member in the European Steering Committee for Youth (CDEJ) and Joint Council on Youth (CMJ) of the Council of Europe, co-managed decision-making system. Furthermore, he is an ambassador of the European Democracy Youth Network (EDYN) from the Republic of North Macedonia, and a member of the Leadership Council, supporting everyday heroes working for the betterment of their communities. In his free time, Gjorgi enjoys reading books, playing video games, and exploring new places.

Serbia – Saska Radujkov
Saška Radujkov is president of Youth of the Movement for Change and Ambassador of the European Democracy Youth Network. She is a Ph.D. student at the Faculty of Philosophy and holds a MA in Pedagogy. Ms Radujkov participated in Democracy Academy organized by NDI, Crta and OSCE and Program for Young Political Leaders, organized by NDI and Lymec. She is part of the EDYN Training of Trainers program. Saška is interested in women´s rights and the greater participation of young people in politics. She believes in democracy and solidarity and works on activities which promote the role of young people in politics.

Ukraine – Denys Ganzha
Denys Ganzha, 23, Ukraine. Denys is a founder of an NGO called "Public Diplomacy Platform", Ukrainian Youth Delegate to the UN, Member of the Youth Affairs Council under the President of Ukraine. During the last 9 months, Denys is staying inside Ukraine to help his country win the bloody war against Russia. His main front is an informational one: 250 comments for various international media (BBC, SkyNews, Al Jazeera, Le Temps, De Staandard, etc.), founded Ukraine Frontline Media Platform which has already helped international journalists with more than 1000 requests to create truthful stories about Ukrainian war for Independence. Apart from this, Denys is helping various ministries and government agencies by giving free consultations in communications and by setting up volunteer teams, which can perform different tasks to help the state.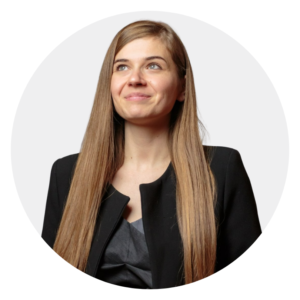 NON-USAID Countries – Jana Soukupova
Jana Soukupová is the Director of the Cabinet Department of the Minister for Science, Research and Innovation, and the founder of the organization Youth, Speak Up! which aims to introduce young people and their topics into politics. She has been politically active for over ten years, and opened deliberative platforms for young people in the Chamber of Deputies (Parliament of the Czech Republic) – platforms focused on the youth-oriented political agenda such as environment, mental health, digitalization, and the support of early-career scientists. As a female leader, she emphasizes creating a diverse and progressive environment within the political and scientific sphere.

NON-USAID Countries – Laura Danilas
Laura Danilas has been a member of the City Council of Tartu since 2017, she got reelected in 2021 and she is a member of the Estonian Reform Party. She holds a B.A. in Aeronautical Engineering from the Estonian Aviation Academy and is currently studying for an M.A. in Cyber Security at the Tallinn University of Technology. She is working as a Political Advisor to the Minister of Social Protection and is also involved in aviation-related projects. She has written articles for both local and international publications and is passionate about foreign affairs, defense policy, and information warfare. She enjoys reading, skiing, playing golf and chess.

NON-USAID Countries – Loretta Pinke
Loretta Pinke is a doctoral student at Comenius University in Bratislava, where she officiates at the Department of Economy and Finance. In her academic work, she researches domestic consumption in small and open economies. She is a founding member of the party HLAS – Social Democracy. Moreover, she is the vice-president of the civic association Slovakia – Europe – the World, where she focuses on topics related to the European Union, youth, and international relations, where she wishes to extend her activities in the nearest future.