After the recent elections, we are happy to introduce the leaders of the upcoming term. You might have seen their campaign videos here, but what are their backgrounds? Let's dive into their bios.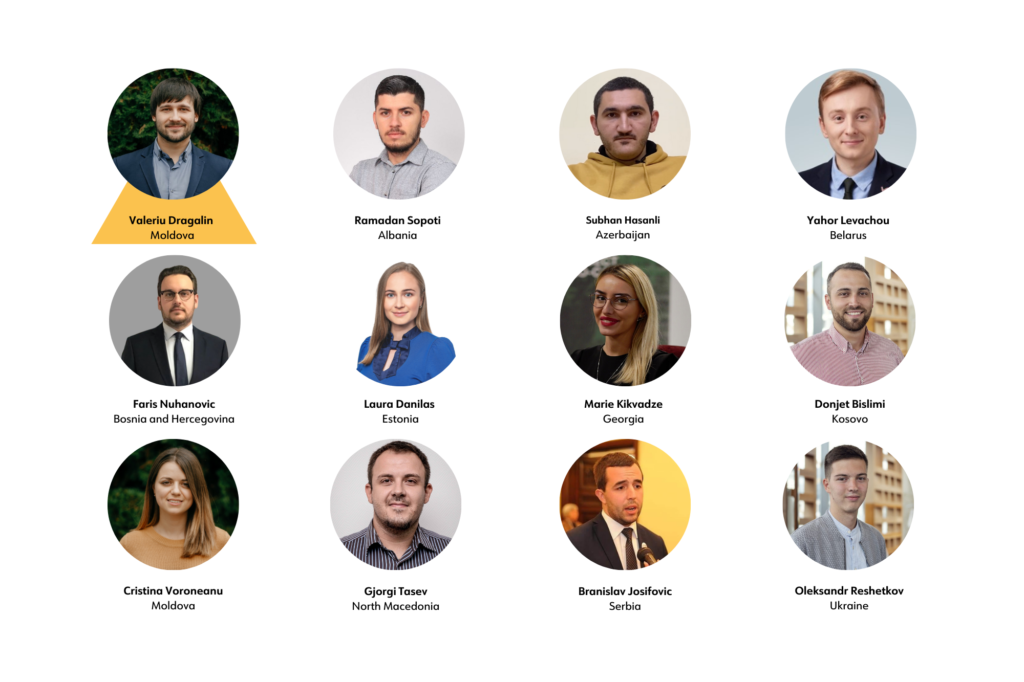 Ramadan Sopoti | EDYN Albania
Ramadan Sopoti is an alumnus of the University of Tirana and holds a master's degree in Business Administration. He is experienced in project management and policy research within civil society organizations and has been extensively engaged in designing and delivering tailored capacity building programs for grassroot organizations. Mr. Sopoti is the author and contributor of several publications addressing the implementation of regional and national projects. As of January 2021, he joined the British Embassy in Tirana as a Project Officer where he in designs, develops and implements a portfolio of media projects as part of an expanded UK program for the Western Balkans.
Subhan Hasanli | EDYN Azerbaijan
Subhan Hasanli is 27 years old and is a co-founder  at the Social Rights Centre, an NGO operating in Azerbaijan. The organization is working  in the protection of social rights and awareness-raising activities on social rights in Azerbaijan. Subhan holds a bachelor's degree in law from Nakhichevan State University. His goal is to promote the rule of law and human rights, and he hopes to achieve changes in these fields. Subhan's hobbies include catching fish, playing chess and reading books about science, politics, and philosophy. His favorite book is "Diplomacy" by Henry Kissinger.
Yahor Levachou | EDYN Belarus
Yahor Levachou was born in 1993 in the village of Beshankovichy district, in the Viciebsk region of Belarus. After graduating from Beshankovichy Secondary School in 2010, Yahor immediately began studying geography at Belarusian State University, having received the Scholarship of the Special Fund of the President of the Republic of Belarus for Gifted Youth. In 2015, Yahor graduated with honors, and in 2016 he received a master's degree. Since 2015 till liquidation in 2021, Yahor had been a member of the Republican Research and Education Public Association's Tell the Truth political association and movement. Yahor ran as a Tell the Truth candidate in the 2016 and 2019 parliamentary elections, in which he finished in second place. He also ran as a candidate in the 2018 local elections. Yahor had been an elected member of first EDYN's Leadership Council in 2018. Outside of politics, Yahor has been a PhD student at Vilnius University since 2021.
Faris Nuhanovic | EDYN Bosnia and Herzegovina 
Faris Nuhanovic is a lecturer at the College of Tourism Management, Konjic. He is the founder of N Consultings, a free online platform that helps businesses negatively affected by the pandemic. His platform also supports youth businesses and helps unemployed women start their own business. He is one of the founders of the VSTIM business incubator.  Mr. Nuhanovic is a PhD candidate and holds an MBA as well as a bachelor's degree in Management and Leadership Studies. Currently he is working in businesses, as a lecturer, and as a project manager for the Foundation for Arts and Education, Amadeus. Since 2009 he has worked with NGOs, including a foundation for arts and education Amadeus and Metamorfoza.
Laura Danilas | EDYN Estonia (representing all non US AID countries)
Laura Danilas has been a member of the City Council of Tartu since 2017, where she supports youth involvement, sustainable urban development, and energy-efficiency in transportation. Since May, she has worked as a Political Advisor to the Minister of Social Protection. She holds a B.A. in Aeronautical Engineering from the Estonian Aviation Academy and is currently studying for an M.A. in Cyber Security at the Tallinn University of Technology. She has written articles for both local and international publications and is passionate about foreign affairs, defense policy, and information warfare.
Marie Kikvadze | EDYN Georgia
Marie Kikvadze is a communications manager and advocacy specialist working at CENN where she is involved in rural development and climate advocacy projects. In addition to that, Ms. Kikvadze leads the Mediation and Civic Engagement Committee and works to advocate local issues in the multi-ethnic municipality. She has various international experiences and is a FLEX and ERASMUS+ program alumnus. Ms. Kikvadze worked on election monitoring missions for OSCE/ODIHR and ISFED. She has worked for the EU, supporting curriculum reform for Civic Education and Principles of Democracy. Ms. Kikvadze's desire is to raise awareness about civic activism, gender equality and democracy and speak up against any inequality.
Donjet Bislimi | EDYN Kosovo
Donjet Bislimi is a Kosovar activist and youth leader. He has been an elected official of the Democratic Party of Kosovo (PDK) for more than nine years and was elected as President of the party's Youth Wing three years ago. He graduated with a degree in medicine from the University of Pristina and is in the second year of Epidemiology residency and first year of lecturing at a private nursing school. As President of the PDK's Youth Wing, Mr. Bislimi conducts multiple youth outreach activities and different policy roundtables. He also has launched publicity campaigns for the promotion of youth activism.
Cristina Voroneanu | EDYN Moldova 
Cristina Voroneanu is the co-founder of My City Hall, a grassroot organisation that monitors the City Council of Chișinău. She is responsible for the monitoring and analysis of the activity of the elected officials and manages the advocacy and research efforts on transparency, urban transportation and condominium.
Cristina holds a Master in Political Science from the State University of Moldova where she teaches a course on Human Rights, starting this fall. During her Bachelor and Master studies, Cristina was a member of several student and youth-led organisations, creating opportunities and advocating for the rights of youth and students. Currently, Cristina is a member of the Higher Education Reforms Experts running under the Erasmus+ Office.
Gjorgi Tasev | EDYN North Macedonia
Gjorgi Tasev currently works as an advisor for youth and youth policies to the Prime Minister of North Macedonia. Mr. Tasev previously worked in the sector of communications and PR in the government. In addition, Mr. Tasev worked as a demonstrator/associate at FON University (Faculty of Law) in the fields of administrative and constitutional law.  He works directly on affirmation of youth policies, encouraging youth activism and increasing the participation of young people in social processes. Mr. Tasev is the author/co-author of many articles in the field of youth policies, social relations and legal affairs. He is also a Government representative to the European Steering Committee for Youth (CDEJ) and Joint Council on Youth (CMJ) of the Council of Europe. In his free time, Gjorgi enjoys reading books, playing games, and traveling.
Branislav Josifović | EDYN Serbia
Branislav Josifović was born in 1991 in Pirot. He lives in Knjazevac, where he has finished primary and high school. He graduated from the School of Engineering Management in Belgrade. His first job was in the Municipality of Knjazevac as an Administrative Assistant in Department for Budget and Finance. In 2015 he was appointed as Chief of Staff in Municipality of Knjazevac. After the local elections which were held in 2020, he was elected to the position of Deputy Mayor, his first elected office. In 2020 he was elected as an ambassador of EDYN and European Association for Local Democracy (ALDA) for Serbia, and in 2021 he became a member of the Advanced Leadership in Politics Institute (ALPI) Second-generation. He is a member of the Serbian Progressive Party (SNS).
Oleksandr Reshetkov | EDYN Ukraine
Oleksandr Reshetkov is the Deputy Head of the NGO Solidarna Molod in Ukraine, as well as the International Secretary of the NGO European Youth Community. He is an alumnus of educational programs from the Robert Schuman Institute and the International Republican Institute. He has organized numerous youth projects under the Erasmus+ program and received a scholarship from the Konrad Adenauer Stiftung in 2019.
And the new EDYN President:
Valeriu Drăgălin | EDYN Moldova
Valeriu Drăgălin is a young lawyer that works at the American Bar Association Rule of Law Initiative in Moldova and he also collaborates with the MEET institute as a trainer. Mr. Drăgălin is the former president of the National Youth Council of Moldova (CNTM), having been involved in the civil society and youth sector for the last 8 years. He is deeply interested in youth rights, youth policies, and youth participation, also being committed to democracy, participation, and involvement of citizens in decision-making processes.
Watch the exclusive post-elections interview here.