Welcome to the series #EVERYDAYHEROES in which we introduce exceptional members of our network. Through pop culture, we discovered that heroes fly, have superpowers, come from another planet, and wear capes and costumes, but there are other, real heroes. Heroes we are surrounded by every day, who raise their voices in times of injustice and fight for the rights of all of us. Who look the same as us, who express their superpower by fighting every day for a better and democratic society. Everyday heroes, that we have to talk about. Follow us on our Instagram to catch the next interview among the first ones.
Another Everyday Hero is Marie Kikvadze from Georgia.
Can you introduce yourself?
I am Marie, a communication, advocacy, and MEL expert hailing from the beautiful and most hospitable country of Georgia. I am passionate about advocating for climate change, youth, and women's issues in various regions of Georgia. With international experience studying in the USA and Germany, I bring a global perspective to my work. I love to help others achieve their goals. In particular, I am dedicated to empowering rural women and youth and providing them with new opportunities. My passion is to work on different projects and organize events that bring together people from diverse backgrounds. Curiously, I consider myself an introverted person, but also enjoy exploring new cultures and meeting people. Perhaps my ability to connect with individuals on a personal level is what makes me such an effective communicator and advocate. Traveling is a great way to broaden one's horizons and gain new perspectives. It's fantastic that I have had the opportunity to explore different cultures and learn about individual stories. Traveling experiences give me a sense of adventure and curiosity about the world. These experiences can be invaluable when it comes to advocating for change and creating meaningful connections with others.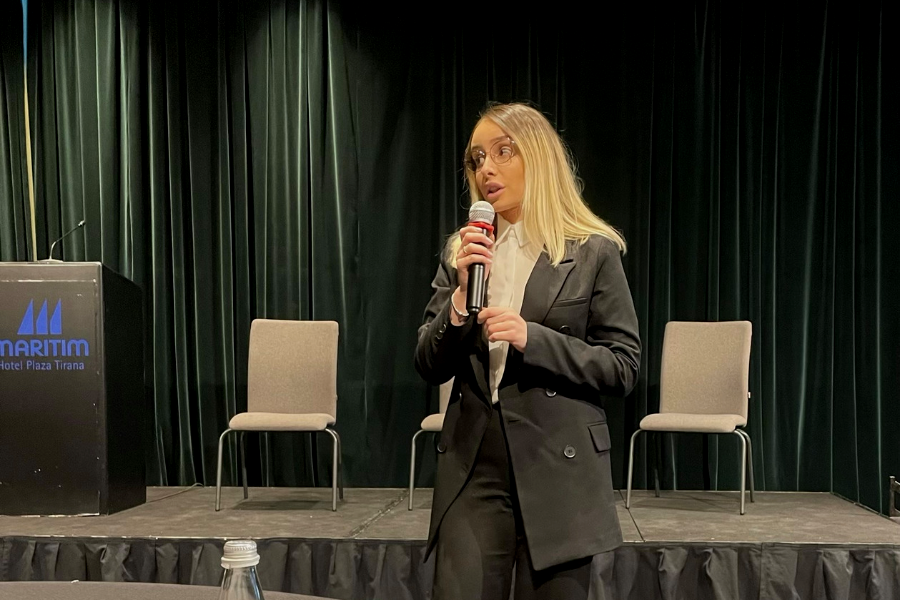 What do you consider your biggest success?
Through my advocacy work, I was able to bring together a group of 14 local women in the Mediation and Civic Engagement Committee (MCEC) and equip them with important knowledge and experience about lobbying-advocacy mechanisms. My effort to establish a close and successful practice of cooperation with local, central and executive authorities resulted in my team successfully solving many challenges in the municipality in a short time, precisely through advocacy.
One of the most important issues that I and the MCEC worked on was the legalization of real estate for teachers resettled by the state in Tsalka municipality in 2000. Despite this issue remaining one of the most acute and important challenges for years, I and the MCEC were able to prepare a policy document and present it to relevant institutions. Through active communication with state agencies, the involvement of the Parliament of Georgia and the National Agency of State Property, my initiative was able to turn the unfulfilled dream of teachers into reality. In October 2021, 8 teachers living in Tsalka municipality were given residential houses for a symbolic price of 1 GEL.
My advocacy strategy and action plan, as well as my dedication to identifying and solving current problems in rural areas, are a testament to my passion for making a positive impact in communities. Advocacy is a hard and interesting process. I always achieve my goal if I act like a kid, always asking questions WHY and doing everything to get what I want and what I believe in. Right now I am an independent expert working in the advocacy field, developing advocacy cases, conducting trainings and workshops, and believing that Advocating common issues and working together can have a great impact on our common future.
What does the word DEMOCRACY mean to you?
For me, indeed, freedom, rights, and equality are fundamental values that are at the heart of any Democracy. Democracy is the agreement between people in which, individuals have the freedom to express their opinions and beliefs without fear of retribution, the right to participate in the decision-making process, and the ability to hold their government accountable for its actions.
Moreover, democracy provides individuals with the opportunity to improve and achieve their full potential, regardless of their background. This is because in a democratic society, everyone has access to the same opportunities and is judged based on their abilities and merits rather than their social status or personal connections. For me democracy is a system of government that is designed to promote freedom, rights, equality, and opportunity for all individuals. It is a powerful and transformative concept that has the potential to empower people, strengthen communities, and promote positive change.
Who do you consider your Everyday Hero and why?
An everyday hero can be anyone who takes actions to make a positive impact in their community or in the world. It could be a teacher who goes above and beyond to inspire their students, a healthcare worker who works tirelessly to care for the sick, a volunteer who dedicates their time and resources to help those in need, or a person who speaks up against injustice and advocates for the rights of others. Everyday heroes come from all walks of life and their actions, no matter how small or big, can inspire others to do good and create positive change. It is important to recognize and celebrate the contributions of these everyday heroes, as they represent the best of humanity and inspire us to be better people. My everyday heroes are my parents, who are the best examples of support and empowerment, fairness and braiveness. Their lifepass made me the person I am now, always keeping in mind that my mission in life is to make the world a better place to live for everyone.
What does the concept of Everyday Hero mean to you?
The concept of an everyday hero refers to an individual who performs acts of kindness, courage, and selflessness in their daily life, often without expecting recognition or reward. These acts can be small or large and may involve helping others, standing up for what is right, or making a positive impact in their community.
It is a kind of reminder that heroism is not limited to extraordinary acts of bravery or strength, but can be found in the everyday actions of ordinary people who strive to make a positive difference in the world.
Why did you become a member of EDYN?
I joined EDYN because I am committed to democratic principles and values, and is passionate about working to defend and promote them. EDYN's mission to support young pro-democracy activists, politicians, and journalists in countries with totalitarian heritage aligns with my advocacy work and commitment to empowering youth and promoting social justice. Additionally, being part of a network of like-minded individuals from different backgrounds and countries can provide opportunities for collaboration, learning, and sharing experiences, which can be beneficial for personal and professional growth. Therefore, I become a member of EDYN to collaborate with like-minded individuals and organizations in advancing democratic principles and to leverage my skills and expertise to support the network's mission.